In large installations of collective antennas SMATV, e.g. a university or in a large hospital campus, the fiber optic is emerging as the ideal solution for transporting of leaks or interference-free signals.

One of the major constraints of TV distribution on coaxial cable systems is that the RF losses increase with frequency and length of cable used. In applications where it is necessary to transport RF signals over long distances, from one point to another, the coaxial cable is not the solution most appropriate. Very often the use of long lengths of cable coaxial implies use amplifiers of RF in line which in occasions this solution is something face and the degradation of the cable still being inevitable. In this type of applications that can be described as "large installations of collective antennas" SMATV (e.g. a University campus where it is necessary to carry the signal of the main building to other buildings), optical fiber cables are the ideal solution. Fiber optic cables have very small losses in comparison with coaxial cable. It is a non-metallic cable, problems of leakage or interference with RF signals are absent, which makes fibre optics in the solution most suitable to transport RF signals means of "noisy" RF.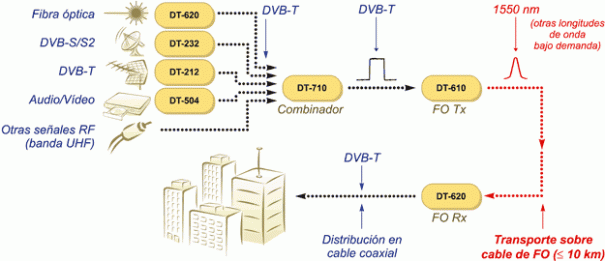 Solutions For this type of facility, companies such as ProMax count with solutions specific. Thanks to its DT-610 module it is now possible to easily transmit channels generated by the headend Digital to TV, DVB-T (COFDM) in a fiber optic cable covering distances of up to 10 Km, using a wavelength of 1550 nm (other wavelengths provide them on request). On the opposite side of the fiber, another header containing a module DT-620 can receive this optical signal and RF DVB-T original just undistorted signal. This RF signal can then be distributed again in a network of coaxial cable if necessary.
Did you like this article?
Subscribe to our RSS feed and you will not miss anything.
Other articles on ProMax