Multitouch creates a new paradigm within large interactive touch screens
The Finnish company MultiTouch has presented the MultiTaction Cell 55″, a stackable integrated LCD display with an advanced set of gestural touch capabilities and object recognition. The product, a 55-inch screen, is the first that includes the new platform MultiTaction of software and hardware for large multi-touch LCD screens developed by this company.
The developer of interactive visualization systems based on proprietary hardware and software designs MultiTouch, incorporates to its catalogue of products MultiTaction Cell 55″, a display Full HD only 20 centimeters of depth that can accommodate an unlimited number of points of contact and concurrent users with the recognition of the entire hand.
MultiTaction is based on patented MultiTouch technology of optical images for Computer Vision Through Screen multi-touch screens, and provides the most advanced set of gestural touch capabilities and object recognition. Multitaction is an innovative way of creating an integrated multi-touch LCD displays. The front glass and LCD package conforms to allow that the integrated optical image system can work effectively through it.
With an ultra-fast response (more than 200 frames per second), MultiTaction units are designed for interaction with the objects in real life - vessels, 2D bar coding or game pieces, for example - and can be stacked to create any size or shape with dozens of units. The product of frameless slim-bezel design allows you to incorporate the MultiTaction in custom made furniture.
The multi-touch technology of the future
Petri Martikainen, CEO of MultiTouch, commented that "the years of research and market development that we have invested in the creation of MultiTaction finally have borne fruit in that we know that it will be the next platform for the industry for the creation of powerful multi-touch displays and multi-user. Thanks to the work that we have carried out with the main interactive developers in the world, we have listened carefully to our customers and we have developed technology that can be used for all we know it will be a great community of developers of multi-touch software committed to the future."
MultiTaction Cell 55″ uses the second generation of the family of Intel Core processors, allowing for a more rapid response to multiple touches on the screen. Adrian Whelan, director of new business from Intel Corporation, has been drawn to the respect that "the combination of the second generation of Intel processors Core and multi-touch display solutions allow new interactive brand experiences for end users that are both interesting and fun." These experiences can be addressed effectively new patterns of interactive consumption in retail and public environments".
The most significant advance of MultiTaction is its multi-touch optical sensor technology is integrated with the backlight and emitters of infrared on a Board of integrated circuit (IC), creating it a modular camera that can be extended to displays of more than 100 inch high resolution with the same fine design.
Entre las características avanzadas, la plataforma MultiTaction elimina la característica más problemática de las pantallas táctiles ópticas, que es la sensibilidad a la luz externa, como la luz solar, los focos y otras fuentes de luz externas. MultiTaction incorpora una nueva tecnología de seguimiento híbrida que combina las sombras con reflejos de infrarrojos para un funcionamiento sin problemas en cualquier entorno.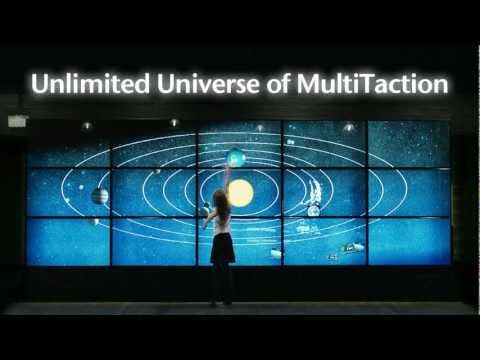 Did you like this article?
Subscribe to our RSS feed and you will not miss anything.
Other articles on MultiTouch