The Virtual Body project allows users to 'get into the shoes' of another person
A group of researchers from Ikei Laboratory of Tokyo Metropolitan University Graduate School of System Design has long been working in the Virtual Body project, a new technology that tries to recreate the experience of the five senses through a complex system of actuators, vibrators for tactile feedback fans that distribute different aromas, 3D monitor, helmets with 3D sound and also a chair in which simulate human movement when walking or running.
In an effort to provide a more immersive sensory experience, Ikei Laboratory of Tokyo Metropolitan University Graduate School of System Design it is developing what it calls 'technology virtual body', which uses the five senses to provide a similar virtual experience getting into the body of another person, as recorded DigInfo.
El sistema es más virtual que la propia realidad virtual con el usuario experimentando pasivamente el estímulo predefinido – que los creadores comparan con habitar el cuerpo de otro. Pero proporcionar a alguien un cuerpo virtual todavía requiere algo más que ponerse un casco con pantallas estéreo en su interior. Significa ser capaz de oler, sentir el viento y tener la sensación de caminar sobre el suelo. Eso implica un equipo muy elaborado.
El proyecto del Laboratorio Ikei consiste en un monitor 3D, auriculares, un ventilador para la brisa y los olores, una silla que se inclina hacia atrás y hacia adelante y vibra, y unos pedales para proporcionar una sensación de caminar y correr. El profesor Yasushi Ikei ha explicado que "la silla se moverá para proporcionar sensaciones de dirección y vestibulares. Las piernas se mueven para crear una sensación de caminar o correr real y una sensación de movimiento en paralelo o hacia arriba y hacia abajo, o para crear una sensación como si los pies tocasen el suelo. Se sienten grandes vibraciones cuando está en marcha, por lo que es posible crear vibraciones desde las espinillas hasta las rodillas. Cuando paseas por la ciudad hay diversos olores y brisas, y éstos también se recrean."
The Ikei Laboratory is developing the project Virtual Body thinking users are getting old and want to travel, but they are no longer able to.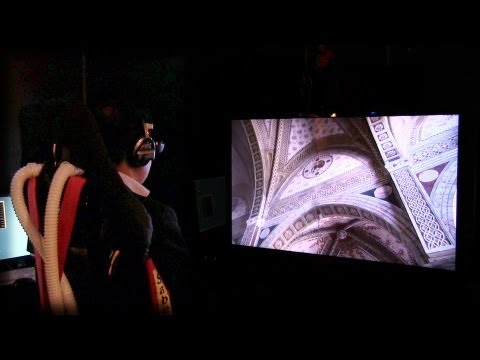 Did you like this article?
Subscribe to our RSS feed and you will not miss anything.
Other articles on Ikei laboratory