Christie with a gigantic 108 MicroTiles display covers the lobby of its headquarters in California
Once again, Christie uses its own video technology to one of its headquarters, in this case the California Cypress, to cover two walls of the entrance hall with 108 64 megapixel MicroTiles.
The first impression, quite visual, when someone comes to a site can be decisive in many respects. If it is a leading company technologically, publicly display is almost obliged, and thus the multinational is doing it Christie in all its branches, where installed their digital signage systems and which has received awards in major international competitions.
On this occasion it is the headquarters of California, in whose lobby gets to partners, customers and suppliers with a massive and dynamic video screen that stretches over two walls, combining technology, architecture and artistic design.
The project, carried out as in other occasions with Media arsenal, SRM Architects and rp Visual Solutions, used 108 Christie MicroTiles, which, thanks to its modularity, creates a singular design full of impact and visual dynamism in which corporate and artistic content, technological solutions and brand messages are displayed.
This creative canvas 64 megapixels, with a total 23.760 × 2, 700 pixels native resolution, amounting to thirty high-definition sources complete, can be controlled easily with Arsenal Media Interactive tablet.
In this regard, staff can control playback scripts and create welcome messages for customers, and the commercial Department of the company use this big screen to do even snapshots shows own lobby of the headquarters of Christie in California.
As Kathryn Cress, Global Vice President of Marketing Christie, "our main goal is to multiply the potential of MicroTiles and overcome limits on content standards, and I think we have achieved dramatically, with a high level explains impact a customer or partner expect when they enter the headquarters of a company with the reputation and career of Christie ".
For the management and operation of this project seventeen units Control ECU, eleven high-performance PCs using Pandoras Box (Widget design and multimedia players), Christie JumpStart and Vista Spyder X20 are required.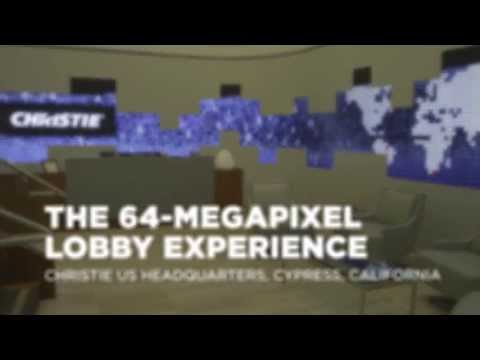 Did you like this article?
Subscribe to our RSS feed and you will not miss anything.
Other articles on Media arsenal, Christie, rp Visual Solutions, SRM Architects