AMX expands its range Enova DVX with two new selectors of presentation ' all-in-one '
The Enova DVX range of AMX has two new -2110HD-2110HD-SP and T models, developed to provide all-in-one 'solution for small meeting rooms or classrooms that require only three or four AV sources.
With the aim that more and more users have access to the latest technology present in the meeting, AMX, mark of Harman ProfessionalIt has available two new selectors presentation all-in-one fall into their Enova DVX range.
The Enova DVX-2110HD-SP and 2110HD-T, models recently presented at InfoComm 2014 in Las Vegas, respond to the needs of users of small meeting rooms and training rooms that normally require only three or four AV sources, but they can benefit from all the features of the Enova DVX series.
Para dar cabida a casi cualquier fuente analógica o digital, Enova DVX-2110 dispone de cuatro entradas de vídeo, incluyendo dos entradas DVI multiformato (que aceptan tanto fuentes analógicas como digitales de vídeo) y dos entradas HDMI, todas ellas HDMI/HDCP. El modelo DVX-2110 conserva todas las características que vienen de serie en los Enova DVX, incluyendo la conmutación AV, un controlador integrado NetLinx, DSP de audio profesional, amplificador y transporte a larga distancia de par trenzado.
Este sistema también incluye tecnologías exclusivas, como AMX SmartScale para vídeo perfectamente escalado en cada salida, e InstaGate Pro, que elimina las restricciones de claves y retrasos al cambiar entre fuentes HDMI/HDCP. Disponible en dos modelos: DVX-2110HD-SP, con con 2x25W – 8 Ohm de amplificación, y DVX-2110HD-T, con 75w -70V/100V de amplificación. Para facilitar la integración de este modelo en el diseño de sistemas, AMX tiene disponible la herramienta de configuración Rapid Project Maker (RPM).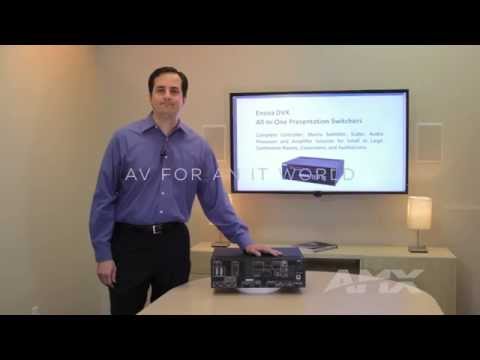 Did you like this article?
Subscribe to our RSS feed and you will not miss anything.
Other articles on AMX, Harman Group, InfoComm2014