AOpen develops a technology for managing and controlling their media players
AiCU es la funcionalidad creada por AOpen para simplificarla gestión y monitorización de sus reproductores. El primero en incorporarla es el Digital Engine DE3450.

AOpen ha desarrollado una nueva tecnología para proporcionar una mejor gestión y control de sus dispositivos. Denominada AiCU, permite reducir los costes operativos y optimizar la eficiencia para los usuarios finales.
Entre las características que aporta esta unidad de control se encuentran el Super RTC, para programar el encendido y apagado por diferentes días y horarios; emulador EDID, que soluciona problemas de resolución y evita pantallas negras; System Data Record para grabar información importante del sistema; dirección señal HDMI; controlador remoto remoto por infrarrojos para manejar el sistema sin tocar la pantalla; y control y recuperación basados en hardware.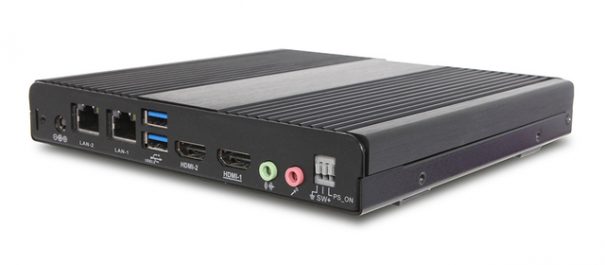 El primer media player de AOpen que dispondrá de la tecnología tecnología AiCU (AOpen Intelligent Business Unit) es el Digital Engine DE3450. Un equipo construido con el procesador Intel Apollo Lake Quad Core que ejecuta vídeo Ultra HD (4K2K @ 60hz) para obtener imágenes realistas y una óptima experiencia digital. Incorpora dos salidas HDMI (2.0 y 1.4b) y es compatible con las especificaciones de reproducción de video HEVC/H.265 (10 bit) y VP9.
Diseñado con un factor de forma ultradelgado (ultra slim), el AOpen DE3450 es silencioso y eficiente. Su temporizador de vigilancia detecta y se recupera de cualquier mal funcionamiento. El DE3450, a prueba de golpes, resiste la contaminación y otros efectos ambientales, ofreciendo seguridad, fiabilidad y durabilidad.
Por otra parte, dispone de red dual y un doble orificio de antena para dar respuesta a las necesidades de arquitectura de red del cliente, además de ser compatibles con aplicaciones de IoT. También usa claves de cifrado validadas que brindan seguridad adicional al dispositivo.

Multiple USB ports
Junto a este modelo, AOpen también ha dado a conocer el modelo Digital Engine DE3450S, un equipo en el que se han incluido dos puertos USB 3.0 en el frontal y otros dos en la parte posterior con objeto de dar respuesta a aquellos proyectos donde la conexión de periféricos es importante.
Diseñado con el procesador Intel Dual Core Apollo Lake N3350, es capaz de ejecutar la reproducción UHD.
Este media player admite una sola pantalla de resolución Ultra HD (4K @ 60Hz) y HEVC/H.265. Admite reproducción de vídeo de alta definición de 10 bits. Su diseño sin ventilador y estado sólido asegura que sea uno de potente y fiable equipo dentro del segmento de gama de entrada.
Su robusta carcasa lo convierte en un equipo idóneo para ser utilizado en entornos difíciles.
Did you like this article?
Subscribe to our RSS feed and you will not miss anything.
Other articles AOpen