Extron Quantum Ultra 305: Compact modular videowall 4 K of high speed processor
Design of 3U and five slots, this modular videowall 4K processor supports any combination of I/O boards with technology scaling, for a wide range of applications.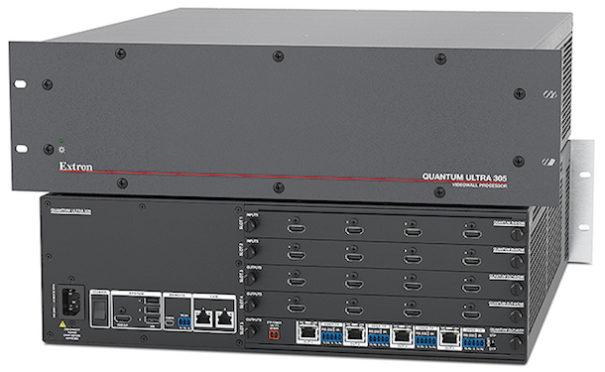 Quantum Ultra 305 processor of Extron There is a bus from high-speed video that incorporates technology HyperLane from manufacturer, currently offering performance in real time unattainable for other processors of videowall, similar to its 610 of 6U and ten slots Ultra Quantum model, but in a smaller format.
A single processor can support multiple video walls with different resolutions and orientations of screen, providing a flexible design system with minimum cost and complexity.
"We are excited to offer this new processor of videowall Quantum Ultra small, without sacrificing performance or capabilities - Casey Hall has ensured, vp." of sales and marketing for Extron-. With HyperLane technology, its powerful processing and a secure operation functions, Quantum Ultra 305 is a powerful and economical solution that saves space for video walls of medium and small size".
Quantum Ultra has the scaling Vector 4K engine and HyperLanede Extron video bus to transmit multiple streams of high resolution and thus provide optimum performance in real time. Customizable output resolutions, the superposition of outputs and edges compensation offer compatibility with almost any display technology.
SpeedSwitch and Key Minder technologies provide near-instant switching speeds for content with HDCP encryption. Its interfaces RS-232 and Ethernet offer direct to control systems.
Video HyperLane bus is prepared for the future and has a maximum of 400 Gbps transfer rate, providing full compatibility with video currently in use higher resolutions, such as 4 K/60 with 4:4:4 color sampling.
Its ability to simultaneously transport over twenty sources are added to this 4 K/60 to 4:4:4. Also has the bandwidth needed to support signal formats in evolution, like 8K and higher resolutions, HDR, greater color depth, as well as extended color range that these signals will provide.
Did you like this article?
Subscribe to our RSS feed and you will not miss anything.
Other articles Extron, Extron Electronics