The interactivity marks the attendance of BrightSign and Nexmosphere to ISE Barcelona

in ISE Barcelona, BrightSign and Nexmosphere are showing how contactless technology is applied to interactive applications in retail environments.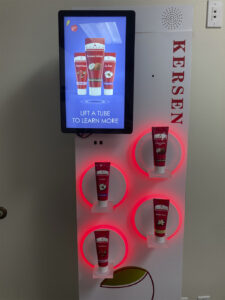 BrightSign has partnered with Nexmosphere to incorporate the latter's technology into its players. and, together, have come to ISE Barcelona to show solutions that allow customer interactivity with contactless technology, using sensors. The goal is to deliver engaging and safe shopping experiences.
"Retail is facing a new world in the wake of COVID-19. We have been encouraging customers to interact with touchscreen interfaces for years and, now, we are finding new ways to deliver experiences. BrightSign players and Nexmosphere technologies face today's challenges together with cutting-edge technology that can be seen at ISE Barcelona and that will bring contactless digital displays to life", comment Jeff Hastings, ceo of BrightSign.
At the BrightSign booth, Nexmosphere is exhibiting its latest interactive sensor technologies for use in retail and other indoor digital signage environments. ⁠
To enable contactless navigation of digital content on the screen, the new Nexmosphere sensor XT-EF650 AirGesture has been integrated with BrightSign players to record hand slips.
In addition, The AirButton function detects when the client's hand enters or leaves the sensor detection field. Installation is simplified with several sizes available, adjustable sensitivity and self-reheration. Capacitive sensing technology allows the sensor to be placed behind or below any non-metallic surface.
Another product integrated into BrightSign players is the Nexmosphere presence sensor XY-240 with AirButton functionality. this records not only the presence of a client versus an installation, but also its distance.
AirButton sensor offers contactless user input functionality, allowing the viewer to control their experience effectively.
BrightSign players have also been integrated with controllers XC-700 of Nexmosphere that have control LightMark Led, that allows to control the ambient lighting in tune with the presentation of the digital signage.
Connected to Nexmosphere XC-700 series controllers with LightMark interfaces, BrightSign players can control multiple Pixel Led strips, RGBW Ledo Optical Audio Switching.
LightMark Led technology enables selection, with flexibility, of the many animation patterns preprogrammed to suit an installation. The interface X-Talk allows easy connection with a number of sensors, buttons or other components to create an interactive experience without additional configuration.
You liked this article?
Subscribe to our RSS feed And you won't miss anything.
Other articles on BrightSign, ISE Barcelona, ISE2021, Nexmosphere