Boat participates in New York in an interesting interactive experience of BMW on the street
In the MetLife building, opposite Bryant Park, BMW has installed a window-screen reflecting traffic, real-time substitute each vehicle by one of the new hybrid-electric models of the German manufacturer.
Boat He has participated in New York in an interesting experience advanced interactive visualization in the street. In the MetLife building, opposite Bryant Park, BMW has installed a large window with rear projection screen HDQ-2K40 two Boat with a total of 80,000 lumens.
With three cameras and several sensors track, the crystal-display reflected the vehicles on the road ... but, to the surprise of passersby and drivers, real cars turned into the new electric and hybrid vehicles i3 and i8 BMW .
The feeling of this project led by Fresh Air Flicks was a vision of the future of motoring in a real environment in real time.
Fresh Air team faced the need to project moving images on a giant window with direct sunlight. After numerous tests, the producers discovered opted for screen film Vikuiti 3M Corporation and the brightest of Barco projectors.
80,000 lumens HDQ-2K40 two boat have allowed to create a real sense of reflection of moving vehicles.
Using a motion tracking technology, digitally transformed each car for a new vehicle from BMW on par calculated and displayed on screen how many tons of C02 and fuel would be saved with these hybrid-electric models.
Glen Sanders, presidente de Fresh Air Flicks, ha destacado que "teniendo en cuenta la cuestión de la luz del día, la clave para el éxito de esta realidad alternativa era utilizar con la máxima salida de luz posible. La fiabilidad también ha sido crítica ya que ha funcionado 24/7 durante nueve días, y como era de esperar, los proyectores Barco han funcionado perfectamente. Además, gracias a su modularidad y fácil instalación, podríamos incluso cambiar nosotros la lámpara sin llamar a un técnico".
Among other benefits, HDQ-2K40 Barco has light-on-demand technology that enables rental companies adjust the light output of 26,000 lumens to 40,000 to accommodate a variety of needs of each event.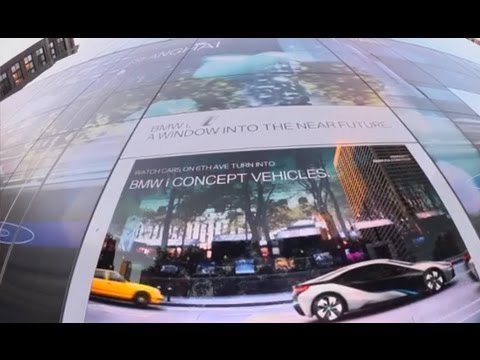 Did you like this article?
Subscribe to our RSS feed and you will not miss anything.
Other articles on 3 M, Boat, Fresh Air Flicks