La Vaguada shopping center installs a large circular 38 square meters Led screen
A circular screen indoor 38 square meters has been installed by Led & Go in La Vaguada, Madrid. Support of digital signage, located 15 meters high, offering a visual surface of 360º over which shows contained measures events, managed by Clear Channel, combining ads with informational messages from the commercial centre.
The La Vaguada shopping centre, located in the District of Fuencarral in Madrid, presides over its lobby with a large screen of 38 square meters in the form of circular Crown. A project that was commissioned by the Group CBRE to Led & Go that is has charge of its design, production and installation.
This screen Led of 19.5 meters in circumference is built with technology indoor, a pixel pitch of 7.62 mm and encapsulated SMD 3528. However, his features more representative is located in the support that is which provides the design in form of Crown circular that allows play content on a surface that covers them 360 ° of vision.
The curvature of this Led & Go solution is accomplished through the design and development of cabinets made to measure, with modules of reduced dimensions, they form a polyhedral surface with small faces when they look at a certain distance offered by the perception of a total curvature.
Altogether, the screen dimensions and the resolution used for its design (pixel pitch) resulting in a solution of 2,560 x 256 pixels with a brightness of 2,000 nits, in a continuous circular screen, which represents a challenge for the playback of content. This challenge has been overcome by putting up a system adapted to the requirements and made contents as they are managed by Clear Channel, and combining ads with informational messages from the commercial centre.
The supporting structure of the screen located to a height of approximately 15 meters, taking advantage of the pre-existing structural elements and new developments associated with the project. This situation, in height and above the escalators, has made the installation of the support implied a complex challenge.
In relation to the structure, this is designed and manufactured to measure taking them considerations necessary to facilitate them work of installation and maintenance of the screen. Structure has on its inside a walkway accessible from the roof area that they avoid the requirements of auxiliary means and other complexities that are required for the maintenance.
As for aesthetics, the bottom of the screen cylinder base has been coated with methacrylates with the logo of the center that aim to keep the aesthetics of the center and respecting your brand image.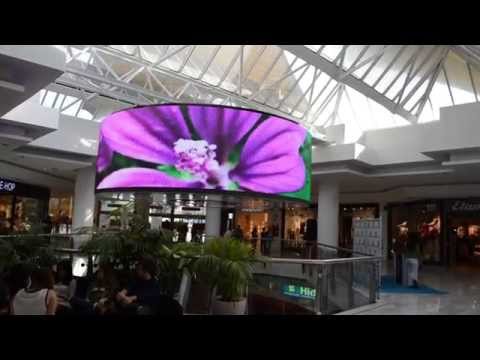 Did you like this article?
Subscribe to our RSS feed and you will not miss anything.
Other articles on Led & Go