Disney Research develops Makeup Lamps, projector light images and real-time face
Components of this laboratory, in collaboration with experts from other universities, presented the details of this prototype that allows the actors do not have to makeup by projecting light on their faces in time, the challenge is to reduce latency from capture to processing.
Makeup Lamps The system prototype, is the first that enables real-time dynamic increase in human faces, in this case actors based on an image projector and light that alters the appearance of the face. A project fruit of research and Anselm Amit Bermano Grundhofer, laboratory Disney Research Zurich (Switzerland), in collaboration with Markus Billeter, Chalmers University of Technology (Sweden) and Daisuke Iwai, University of Osaka (Japan).
One of the challenges of this system, which allows 'make up' dynamic actors in their performances, has been the latency at every step of this process: from capture to processing, because as the document published by Disney Research points out, an image is generated according to a specific pose, but shown in a different facial configuration when it is projected, and have now reduced or almost eliminated.
To do this, Makeup Lamps uses infrared lighting, a high speed camera and an integrated projector optics aligned computer to detect details and facial expressions, which synchronizes the reading of the face and the projection of the captured image on it.
Interpretation algorithms of this spatial animation are assigned to a space of lower dimension and facial movement and deformation are smoothed, by estimating all parameters to predict changes in facial expression with an adaptive Kalman filter.
Then you can create the desired appearance thanks to the interpolation offset textures and superimposing different images on the face or replace it with another person (face2face), depending on the time, the expression, etc, without markers or tracking sensors .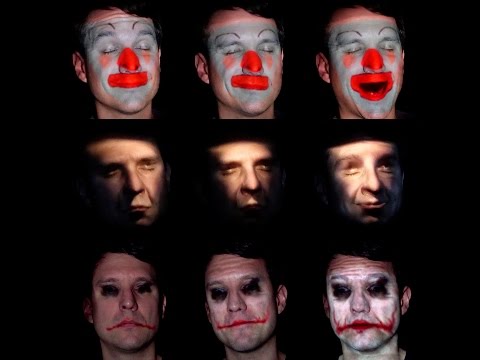 Did you like this article?
Subscribe to our RSS feed and you will not miss anything.
Other articles on Disney Research