Coca-Cola transforms the DooH with the first robotized 3D billboard World
In the iconic Times Square in New York, the Space150 specialist and soft drink brand have given a new dimension to outdoor digital advertising, this time with a robotized 3D system created with 1,760 cubes Led and independent movement and 245 fixed, performing spectacular choreography according to the content displayed.
The first outdoor advertising (OOH) 3D to date has had no less shocking scenario, as the New York Times Square, passing by around 300,000 people witnessed the amazing visual experience created by the agency Space150Specializing in engineering solutions and digital design.
To create this innovative billboard robotized for this multinational soft drink 3D 1,760 LED panels are used with independent movement, along with 245 panels static Led, depending on the content displayed, perform breathtaking choreography 3D animated that capture the attention of thousands of tourists and citizens who visit the nerve center of Manhattan every day.
Como ha señalado Kim Gnatt, director del grupo de estrategia de negocios de Coca-Cola en Norteamérica, "desde el principio, nuestra intención fue crear un momento de relax y pausa para tomar nuestro refresco en el concurrido ambiente de Times Square. Nuestra tecnología 3D patentada dinamiza nuestras marcas icónicas de una manera única y diferenciada con la que esperamos captar la atención de la gente y hacer que quieran participar durante más tiempo".
Esta revolucionaria y gigantesca pantalla Led dinámica, de 20,7×12,8 metros, ha superado rigurosas pruebas para soportar las difíciles condiciones climáticas de Nueva York. Cada cubo Led de alta resolución está programado para extenderse y retraerse de manera independiente, simulando acercarse a la audiencia y mostrando este verano la gama de bebidas de la compañía para combatir la sed y querer beber una Coca-Cola helada, Zero, Light, etc.
At the forefront of innovation in outdoor advertising, Coca-Cola has renewed his success in 2004 on your screen in Times Square (and almost a hundred years after he installed his first advertising in this square) by applying its technology proprietary movement, in which design, manufacture and testing have worked for the past four years the team of R & D, engineering and marketing in collaboration with numerous partners.
"Times Square is an iconic symbol of America and the epicenter of outdoor advertising, so we wanted our new sign differed from everything that had been seen before 'says Miller. The campaign 'Share a Coke cold' this summer has to do with the union, so we saw an opportunity to use this valuable and visible space to celebrate with a wide audience the experience that Coca-Cola can offer. "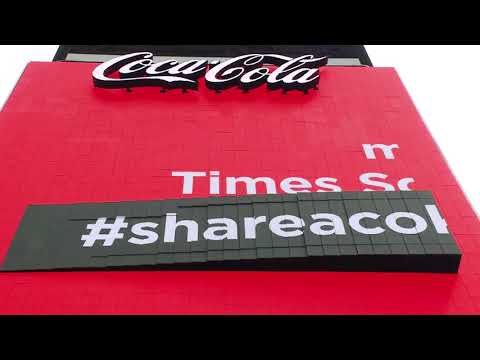 Did you like this article?
Subscribe to our RSS feed and you will not miss anything.
Other articles on Coca Cola, Space150