El New Life Christian School gestiona su red de digital signage con Mvix
Con esta plataforma, el centro educativo puede controlar y alimentar las pantallas que se encuentran instaladas en cinco ubicaciones dentro del campus.

El centro educativo New Life Christian School (NLCS), una importante escuela parroquial localizada en la zona de St. Louis, ha seleccionado la tecnología de Mvix para alimentar la red de señalización digital de su campus. Esta fomenta la comunicación con los estudiantes y feligreses mediante el intercambio de anuncios, sermones en directo, listas de eventos y fotos de la comunidad.
La escuela comenzó como un ministerio de la New Life Pentecostal Church en 1974 y hoy cuenta con más de 200 estudiantes, ofreciendo un enfoque individualizado de la enseñanza. Esta metodología ha colocado a los alumnos entre los mejores de la zona consiguiendo becas en universidades como la de Missouri o Washington.
La comunicación estudiantil siempre ha sido una prioridad de este centro docente. En un principio se utilizaban soportes tradicionales basados en anuncios en papel colocados sobre tableros de corcho que se colocaban por todo el campus. Sin embargo, la logística y los recursos que se precisaban para mantenerlos actualizados regularmente era una tarea demasiado ardua. Además, en ocasiones resultaban ineficiente ya que tanto estudiantes como visitantes pasaban por delante sin hacerles caso ya que eran demasiado simples y poco atractivos.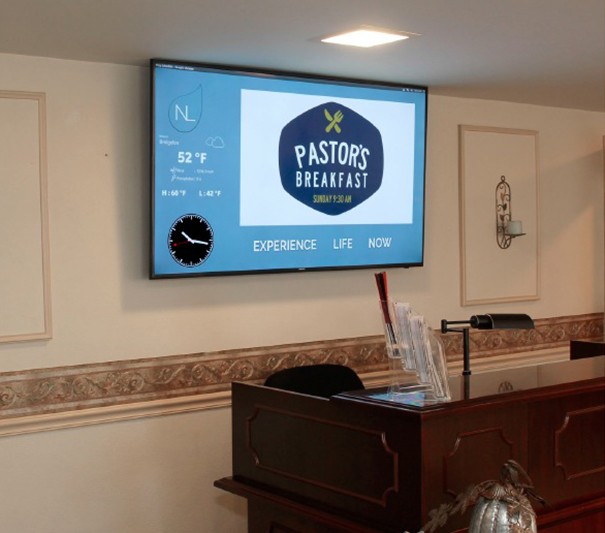 Para solventar esta situación, el NLCS decidió buscar una plataforma multimedia que atrajera tanto a los estudiantes como a la congregación, una solución de comunicación moderna que informara, conectara y les involucrara, al tiempo que sirviera para apoyar a la iglesia local.
El equipo de NLCS quería mostrar contenido multimedia en tiempo real para mejorar el compromiso con los estudiantes durante la semana escolar y los miembros de la congregación los fines de semana. La plataforma tenía que estar conectada con el sitio web de la escuela, sincronizar y mostrar el calendario de eventos, alertas y anuncios, así como vídeos en directo de los eventos escolares y de la iglesia.
La opción elegida para gestionar y alimentar las pantallas, conectadas en red e instaladas en cinco ubicaciones dentro del campus, fue la plataforma de digital signage de Mvix.

El motor HTML5 de este software permite a los administradores mostrar anuncios y calendarios escolares dinámicos y atractivos. Asimismo, ofrece la opción de compartir vídeos transmitidos en directo de eventos escolares y sermones de la iglesia. Con la plataforma habilitada para 4K, la escuela también puede mostrar vídeos en UHD y fotos. Toda esta red digital se administra de forma remota desde la oficina de administración.
"Queríamos una solución que diera la libertad para configurar el contenido exactamente como se quería que se viera y Mvix nos proporcionó lo que necesitábamos. Nos permite actualizar las pantallas desde cualquier lugar, gracias a que es un software basado en la nube, y compartir muchos medios diferentes", comenta Anthony Braswell , director de NLCS.
La escuela también puede aprovechar la funcionalidad multizona y mostrar múltiples mensajes de forma simultánea. Los administradores pueden visuaizar contenido que atrae tanto a estudiantes como a feligreses y mantener a la comunidad informada y conectada.
"El software de señalización digital le da a New Life Christian School una plataforma multimedia flexible para interactuar mejor con sus alumnos, docentes y miembros de la congregación", explica Mike Kilian, director senior of Business Relations de Mvix.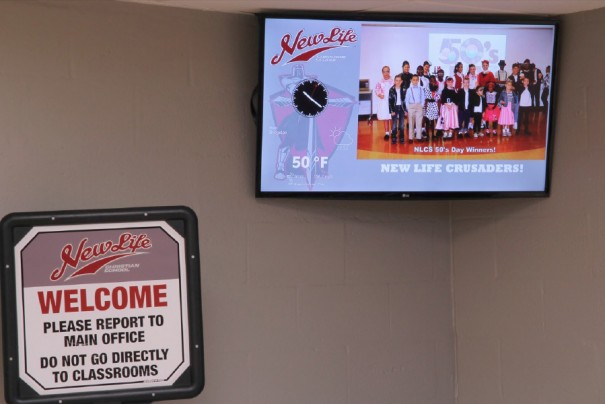 Did you like this article?
Subscribe to our RSS feed and you will not miss anything.
Other articles Mvix