visual and digital shift management systems to improve health care
Tótem digitales para la gestión de turnos y pantallas de gran formato en la salas de espera son algunos de los desarrollos de Sopa Software con VisibleTree para este entorno.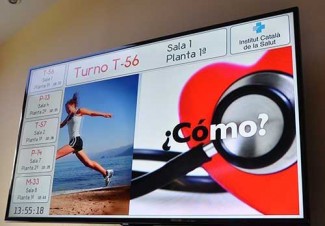 Con proyectos desarrollados para el Instituto Catalán de la Salud (Institut Catalá de la Salut –ICS), con instalaciones en la localidad barcelonesa de Santa Coloma de Gramanet, el especialista en cartelería digital Sopa Software, together with VisibleTree, su área de productos y servicios de diseño e integración de equipos de cartelería digital interactiva, ha iniciado una nueva etapa profesional entrando en el terreno de las pantallas de gran formato, tótem digitales y el desarrollo de equipos y software adaptados a las necesidades del cliente.
En este sentido, destaca el desarrollo para estos centros de salud de un sistema de gestión de turnos tradicional, con un emisor de tique con pantalla táctil; una aplicación embebida en el sistema del operador (enfermero o médico) y una o varias pantallas para la sala de espera.
El sistema, con un funcionamiento muy sencillo tanto para el paciente como para el personal, puede conectarse al sistema informático del ICS para averiguar si el usuario tiene una cita previamente solicitada o crear una en tiempo real.
Tique emitter screen, the user can scan the QR code shown, using a code reader or an application designed to effect that alerts with the appointment time, or simply view the ticket, giving you freedom to do other things while waiting his turn. On the computer of the operator (nurse or doctor), it warns of the arrival of a new patient, with a pop-up window and which can indicate 'free' or 'next', while the waiting room monitor shows the correct turn call.
Informational messages in the shifts move smoothly across the screen, since the users show more attention to the movement than to a sudden change. Since the screen is also issued a call, voice of the shift in course information.
Health centers of Santa Coloma de Gramanet, dependent of the Catalan Health Institute, have digital Totem developed by VisibleTree, which integrates a touch screen 21 ' 5 inches; a laser printer double-sided with front output and other tickets for 80 mm; as well as chip cards and Metrologic bar code reader electronic ID; integrated computer and application for the management of appointments for patients.
Did you like this article?
Subscribe to our RSS feed and you will not miss anything.
Other articles Catalan Institute of health - ICS, Sopa Software, VisibleTree