El Mundo E mall installs a mapping projected onto an ice rink
Para la instalación de este videomapping se han utilizado ocho proyectores Christie D13WU-HS y los media server Pandoras Box Quad Player y Pandoras Box Manager.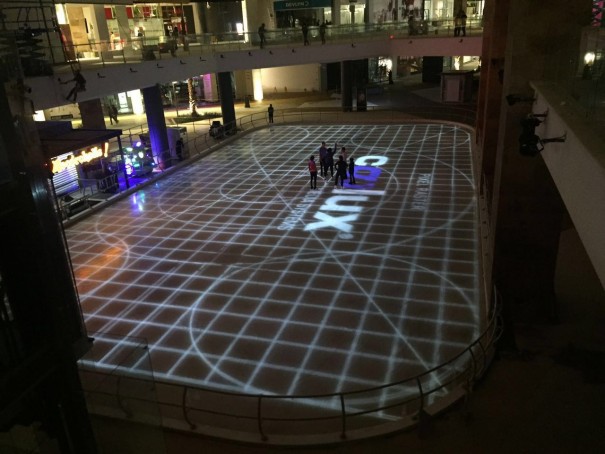 Localizado al norte de la Ciudad de México, y con 30 millones de visitante al año, world E es uno de los centros comerciales más importantes del país. Recientemente, fue remodelado con una nueva y moderna arquitectura que incluye más de 300 locales comerciales y lugares de entretenimiento.
Asimismo, cuenta con una pista de hielo en cuya superficie se proyecta un videomapping de 34,75×17,26 metros que puede verse todos los días a partir de las siete de la tarde. Esta instalación, denominada 'Recórcholis', impacta en el publico mediante contenidos personalizados con temas temporales como la Navidad, el día de San Valentín, etc.
This is the only projection of this type that has been done in the country and for conducting business Altea, responsable del proyecto, ha utilizado ocho proyectores de fósforo láser la Serie HS de Christie así como su sistema Pandoras Box.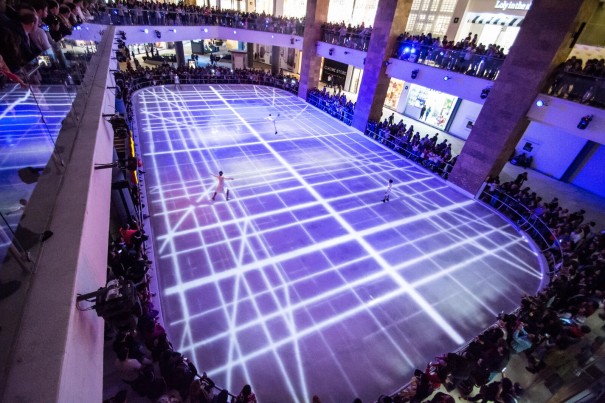 Altea ha instalado ocho proyectores Christie D13WU-HS que trabajan en dual y han sido montados en las cuatro esquinas de la pista, a aproximadamente 15 metros de altura. Cada par de proyectores cubre el cuadrante opuesto de la pista de hielo. Se trata de proyectores muy silenciosos de tecnología 1DLP que ofrecen 13.500 lúmenes ISO y resolución WUXGA.
"Elegimos estos equipos de Christie sobre todo por la duración de su fuente de luz", explica Carlos Márquez, director de proyección de Altea. Los proyectores de la Serie HS ofrecen 20.000 horas de funcionamiento sin lámpara a bajo coste.
"Sus dimensiones y su peso también fueron factores cruciales para su elección, ya que están suspendidos en muros falsos. En su operación también notamos un alto contraste (negros más profundos) y, gracias a la tecnología BoldColor incorporada, la intensidad de sus colores es superior a muchos productos con los que he tenido oportunidad de trabajar", añade Márquez.
Por otro lado, el uso de blending y warping es fundamental para encajar las imágenes de forma precisa en la gran superficie sobre la que se proyecta. "Debido a lo complejo del tiro y a la posición única posible para este proyecto, los tiros cruzados requirieron mucho trabajo de blending y warping. A pesar de las condiciones de luz y lo complejo del tiro, se logró un excelente resultado", explica el director de proyección de Altea.
Para gestionar la proyección de este mapping en Mundo E, Altea ha instalado un las soluciones Pandoras Box Quad Player y Pandoras Box Manager. "Estos media servers nos permiten controlar y automatizar todas las proyecciones, ofreciendo una enorme creatividad y flexibilidad", asegura Carlos Márquez.
Did you like this article?
Subscribe to our RSS feed and you will not miss anything.
Other articles Christie