The ultimate Telepresence: brushing the cat remote
El ingeniero de software Taylor Veltrop ha ideado una manera de cepillar a su gato de forma remota a través de un avatar robótico, abriendo un nuevo campo que podría significar aplicaciones comerciales hasta ahora no aprovechadas en telepresencia. Veltrop traduce sus propios movimientos corporales en acción con su avatar robótico, y lo hace con un par de Wiimotes, un robot Nao de investigación, una pantalla montada en la cabeza (HMD) y una Kinect.
Si esta noticia la publicásemos el día 28 de diciembre, más de uno pensaría que se trata de la típica broma del Dia de los Santos Inocentes. Pero no, es completamente cierta. Tras un año de trabajo y perfeccionamiento, Taylor Veltrop ha desarrollado un sistema de telepresencia robótica con una combinación de Kinect, Wiimote, cinta andadora y robot Nao, que le permite deambular por ahí en forma de minirrobot y además interactuar con el entorno, hasta tal punto que hasta puede cepillar a su gato.
Taylor todavía quiere incluirle más posibilidades como un sistema full duplex de audio. Pero por ahora, en la configuración realizada por este ingeniero, unas gafas de vídeo HDMI le permite ver la imagen obtenida por la cámara del robot, controlando el cuello y la cabeza de la Nao (si el usuario mueve la cabeza, el robot imita el mismo movimiento). Los Wiimotes se utilizan para controlar una cámara secundaria y ambas manos, mientras que el resto de los movimientos corporales del robot son generados por las señales recogidas por una Kinect, que las traslada al robot Nao.
Así que cuando Taylor camina hacia adelante en una cinta andadora, el robot comienza a caminar hacia adelante. Si se vuelve hacia los lados, el robot gira sobre sí en su lugar. Todo esto se comunica con el robot a través de Wi-Fi y puede que dentro de poco también sea posible a través de 3G, lo que le daría la suficiente autonomía como para irse a dar garbeos por la ciudad.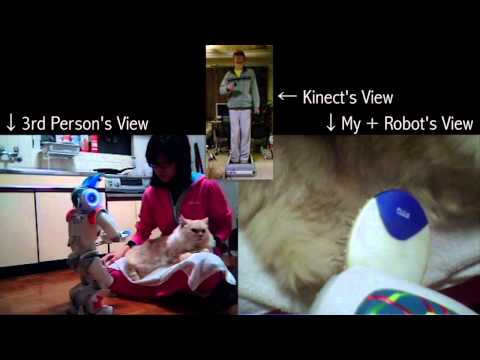 Did you like this article?
Subscribe to our RSS feed and you will not miss anything.
Other articles on

Taylor Veltrop