ProMax will take to ISE his equipment of distribution Digital To TV
Promax estará presente en la feria ISE, que tiene lugar en Amsterdam desde el 31 de enero al 2 de febrero, con su sistema Digital To TV (DTTV), que será demostrado como parte de una solución de cartelería digital en la que esta cabecera recibe señales de TV en SD y HD para distribuirlas simultaneamente en RF utilizando DVB-T y también en IP.
ProMax mostrará en ISE 2012 (stand 10Q130, pabellón 10) el Digital To TV (DTTV), una cabecera de distribución de televisión con salida en formato DVB-T (TDT). El sistema Digital To TV (DTTV) convierte cualquier fuente de vídeo, analógica o digital, a formato TDT y permite insertar 200 programas en la banda de UHF.
Es posible, por ejemplo, convertir la señal de TV Satélite a TDT y recibirla directamente a través del decodificador de Televisión Digital Terrestre. Actualmente, el propio televisor incorporará el decodificador en la mayor parte de casos.
Digital To TV (DTTV) es ideal para utilizar como cabecera en grandes instalaciones, hoteles, centros de convenciones, hospitales, buques, etc. En muchos casos, el sistema DVB-T es suficientemente robusto como para no tener que invertir en cambios de cableado ni conexiones; tan sólo en la cabecera.
El sistema de distribución Digital To TV (DTTV) también permite reordenar el espectro, añadir los canales TDT que se reciben por antena en la región, codificar audio y vídeo… el sistema una vez configurado es autónomo y se puede controlar de forma remota a través de Ethernet. Dispone de opciones para montaje en rack o en pared.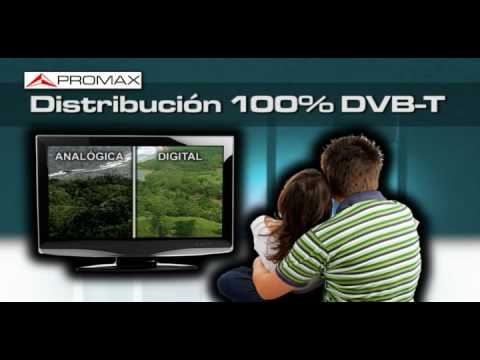 Did you like this article?
Subscribe to our RSS feed and you will not miss anything.
Other articles on ISE2012, ProMax