Monstervision gave a show with mapping 3D interactive to receive to the 2013 at the Conrad Punta of the this
La productora audiovisual argentina Monstervision, que produce contenidos para experiencias 3D estereoscópicas, realizó un show de mapping 3D interactivo y danza con sonidos aztecas y mayas para la fiesta de fin de año de estilo mexicano del hotel Conrad Resort & Casino de Punta del Este (Uruguay).
Monstervision Entertainment cerró el año del Hotel Conrad Punta del Este para más de 2.000 clientes vip y celebridades con un despliegue escénico único en Latinoamérica. Bajo la consigna 'Una noche en Mexico', la empresa montó un show de mapping interactivo y juegos láser en toda la escenografía de frente del foyer en forma tridimensional, interactuando con los bailarines y músicos, que recrearon pasajes de la cultura indígena prehispánica. Más de 30 bailarines trabajaron sobre una coreografía basada en tres cuadros, en los cuales los efectos láser siguieron sus movimientos, hasta que por medio de equipos de última generación estrenados para este evento cortaron los haces de luz provocando un sonido siguiendo la majestuosidad de la coreografía. Para recibir el nuevo año, los espectadores corearon la cuenta final realizada por un sistema láser que iba escribiendo los segundos que faltaban para recibir al 2013.
Fernando Domínguez, director de Monstervision, ha asegurado que "los equipos utilizados son un lanzamiento exclusivo para el Conrad donde confiamos que es el mejor escenario para mostrar esta técnica tan sorprendente, creando de este modo un espectáculo de vanguardia que terminó en el conteo final y la explosión que llevó a el primer baile de la noche para comenzar un festejo inolvidable".
Monstervision, siguiendo con la temática mexicana de la noche, preparó un show lleno de tecnología e impacto visual como lo fue el "Show Foyer", que consiste en armar una línea de tiempo mediante un Story line basado en música mexicana a base de sonidos mayas y aztecas. La línea del tiempo siguió el arte musical de la película Apocalypto de Mel Gibson, con sonidos de instrumentos de percusión indígenas, causando cuatro momentos especiales con danzas como la del sacrificio, la caza, el enfrentamiento del balón y el cierre cíclico.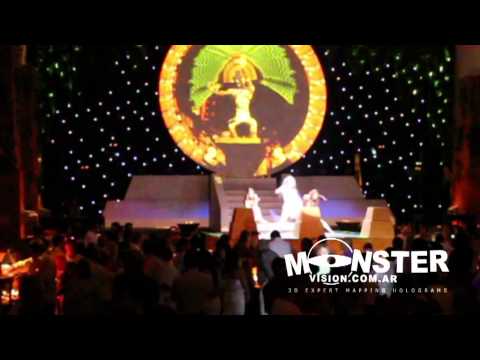 Did you like this article?
Subscribe to our RSS feed and you will not miss anything.
Other articles on

MonsterVision