Barcelona launches a virtual office of citizen with Telepresence service
Barcelona becomes the first European city that has a virtual office for citizen from which the locals can manage any transaction with the city through a Cisco telepresence system.
The locals have from now on a new system to manage any necessary paperwork with the city council, the Virtual Office of Citizen Services, which has been launched in the Casa del Mig, located in the Industrial Park Espanya, in the Sants-Montjuïc.
Esta nueva herramienta de relación de la ciudadanía con la Administración municipal la han presentado, el viernes por la mañana, el teniente de alcalde de Hábitat Urbano, Antoni Vives, y el director de Desarrollo de Negocio en la Región Sur de Europa de Cisco, Juan Blanco. También ha asistido el concejal del Distrito de Sants-Montjuïc, Jordi Martí.
La Oficina Virtual de Atención Ciudadana es una especie de kiosco cerrado, para preservar la intimidad y la confidencialidad de los usuarios, dotado de todos los elementos necesarios para realizar cualquier trámite sin tener que desplazarse presencialmente a una OAC. La persona interesada solo se tiene que sentar en el interior del kiosco y pulsar la pantalla táctil que hay sobre la mesa, acto seguido se establece una teleconferencia en tiempo real con personal de la Oficina de Atención Ciudadana de la plaza de Sant Miquel.
Los trámites que se pueden hacer, hoy por hoy, son un poco limitados, pero según ha explicado Antoni Vives, teniente de alcalde de Hábitat Urbano, durante la presentación del servicio, "está previsto que pronto se puedan hacer exactamente los mismos trámites que se pueden realizar en cualquiera de las oficinas de atención presencial". Para ello, el kiosco tiene una pantalla táctil y un teclado virtual, una pantalla de vídeo de alta definición y audio de gran calidad para la teleconferencia, una impresora y una cámara escáner de alta definición.
The launch of this virtual office is part of the collaboration agreement signed in March last year between Barcelona City Council and Cisco to transform the city into a benchmark in urban development by Cisco Smart + Connected Communities platform. In fact, the kiosk has launched what Cisco has yielded no cost and use additional services you provided, also free of charge, the company UNITRONICS.
The fact that this new service is located in the Casa del Mig Industrial Park Espanya is no accident. In this municipal facility is the Multimedia Point, which promotes the use of new technologies and computer courses organized workshops and advanced multimedia.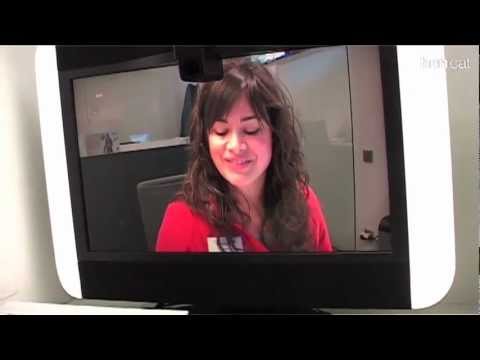 Did you like this article?
Subscribe to our RSS feed and you will not miss anything.
Other articles on Cisco, UNITRONICS