Dynamic1H: new Arthur Holm motorized solution with visible screen for multiple applications
Compact, stylish and versatile defined to the system Dynamic1H, Arthur Holm new motorized solution for auditoriums, meeting rooms and conferences, information counters to the public, etc., whose horizontal movement leaves the display always visible.
Arthur Holm, exclusive monitors European trademark by Albiral Display SolutionsHe has added to its range of products Dynamic Dynamic1H motorized system, offering a horizontal motion that leaves the always visible screen, for use in auditoriums, lecterns, information to the public counters, rooms for meetings and conferences.
Dynamic1H is built, like other systems in this range, in a block of solid machined and anodized aluminium. Your screen can work in any position, either completely flat flush with the surface of the table, up to an angle of 80 ° of inclination with respect to the same.
This new solution from Arthur Holm rises and drops through a silent engine, and has a memory which can store the position desired by the user, as well as stop immediately in case of detecting resistance. As in the rest of the Dynamic range, it also incorporates a system of control and Remote Diagnostics.
Dynamic1H Full HD screen is protected by an anti-glare glass, topped with elegant black edges, with the option of turning it into a multi-touch if so display is required.
Dynamic1H monitors are available in 17 and 22 ", have two inputs DVI HDCP compatible and input and output S-422, addressable and identifiable, that facilitate the connection in cascade, with distances of wiring up to 500 meters.
The use of AHnet control software allows the grouping of monitors and control them by areas, whose connection is via standard RJ-45. The system adds remote diagnosis functions, to facilitate the detection of wiring problems and duplication of addresses. In combination with AHnet, it is possible to also store different scenes of work and create automated test routines, so that users can check in advance and in remote the correct functioning of the equipment.
In addition to multi-touch screen options, Dynamic1H can include additional connectors and DynamicTalk, the system developed by Arthur Holm for lifting and pulling microphones type 'goooseneck' and camera integrated in the own casing of the monitor.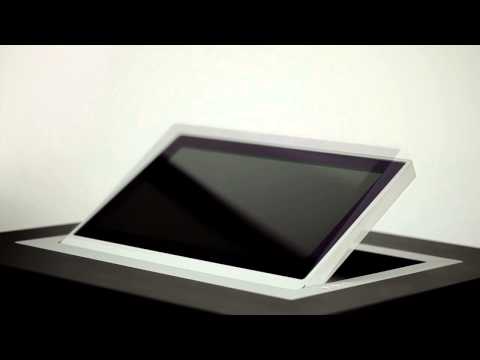 Did you like this article?
Subscribe to our RSS feed and you will not miss anything.
Other articles on Albiral Display Solutions, Arthur Holm