Movilok show at MWC 2017 new management capabilities and security Showcases
The revamped version of its interactive digital signage showcase incorporates a management system to check the status of remote equipment and personalized as well as a dynamic system of generation, distribution and redemption of coupons.
Movilok will attend the Mobile World Congress 2017, to be held from February 27 to March 2 in Fira de Barcelona, ​​where it will display an updated version of its solution showcase Showcases interactive version.
Among the improvements that have been added to this solution Interactive digital signage is a new management system reproduction equipment, integrated into the center console windows, which allows to know the status of each computer remotely and centrally, and sends a notification when someone stops working properly.
The system also provides other remote management features such as understanding and changing the showcase reproduced by the device, namely the geographical location of the computer, change settings, face detection and how to advertise using beacon and identify the equipment characteristics and if any user connected to the window.
With this type of management, it is possible to minimize the time equipment maintenance and troubleshooting, having real-time information of possible errors and have remote management capabilities of each team.
Along with this new remote management functionality, integrated Movilok choice, very suitable for hotels, tourist facilities and shopping malls based on a dynamic system of generation, distribution and redemption of coupons.
From the central management console, you can create coupons that can be distributed by the windows users with the limits chosen and redeemed at an authorized dealer automatically.
Showcases allows the contents of an item from any window to be a downloadable on mobile phone user, and exchangeable manually or with an external system on site or one associated digital coupon.
The last of the new features incorporated to its solution Movilok interactive showcase is a security module to house the playback equipment Showcases, integrated installation between the TV screen and wall support. This module is designed to protect access to the player, increasing the safety of the facility, reducing maintenance costs and providing a system of interactive catalog of products, services and recommendations.
Movilok, also present in the Pavilion of Spain, Was located in the area called Congress Square (stand CS60), will participate in another event organized by the specific MWC for startups, innovative companies and investors, 4YFN (4 Years From Now) to be held in Hall 8 of Fira Montjuïc.
DSE Apex Finalist in 2017 Awards
Por otra parte, Movilok estará presente en los premios DSE Apex Awards 2017, galardones que se entragan en el marco de la feria internacional Digital Signage Expo (DSE), que este año tendrá lugar entre los días 28 y 31 de marzo en el centro de Convenciones de Las Vegas (EE.UU). Su solución Showcases instalada en el hotel Logis La Fonda Barranco de Jerez ha sido nominada finalista en la decimocuarta edición de los premios DSE Apex Awards 201. Competirá en la categoría de 'Event Venues & Hospitality' junto a las empresas Dimensional Innovations y 10net Managed Solutions.
Logis La Fonda Barranco is the first certified hotel in Spain for the deaf. This is a charming, set in an old merchant house and located in the tourist center of Jerez. In this environment, the awards jury praised the implementation of Movilok Showcases response to the challenge of improving communication through digital signage, providing tourist information in their own language and interactively.
With this interactive digital signage solution, customers can Fonda Barranco from your mobile select and filter content, download details of the proposals and hotel services, send information, all in real time.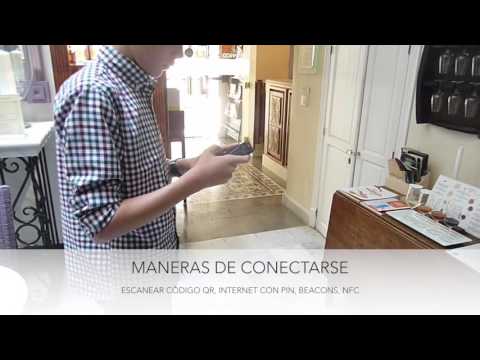 Did you like this article?
Subscribe to our RSS feed and you will not miss anything.
Other articles on Movilok, MWC2017