The flag of Spain in Astana 2017 will include audiovisual immersive and sensory
Framed in the Expo theme 'Energy for the Future' presented inside an explanatory digital mural and its central space is conceived as a large plaza which will house three houses, each with an audiovisual installation related to sustainable energy solutions.
Spain's pavilion at the International Exhibition of 2017 Astana (Kazakhstan), whose design and implementation was carried out by Acciona Productions and Design (APD) next to Frade Arquitectos, Will cover an area of ​​868 square meters and will feature different types of focus on sustainability and renewable energy audiovisual resources.
Framed in the Expo theme 'Energy for the Future', show the past, present and future exploitation of natural resources in Spain, as well as the need to treat the planet and its energy resources responsibly and sustainably.
The pavilion is a showcase from which to display the role of Spain in the development of renewable over recent decades and its pioneering role in research, development and implementation of collection systems most relevant clean energy: wind, photovoltaic and solar thermal. The first solar power plants based on both concentration towers and parabolic trough systems have their origin in the Almería solar platform, and crystallizing the first commercial plants in the world based on this technology, installed in Andalusia.
coordinated by Spanish Cultural Action (AC/E), organismo público responsable de gestionar la presencia de España en las exposiciones universales e internacionales, este pabellón presentará un diseño creativo, conceptual, evocador y metafórico en su forma, y divulgativo e informativo en su fondo. Su contenido expositivo incluirá audiovisuales inmersivos, sensoriales y sincronizados.
En el interior, un mural explicativo y un audiovisual darán la bienvenida a los visitantes, ofreciendo una presentación breve del país y de los proyectos de energía renovable desarrollados en todo el mundo. El espacio central estará concebido como una gran plaza que albergará tres casas, cada una de ellas con una instalación audiovisual relacionada con soluciones energéticas sostenibles.
The pavilion, which is expected to draw more than 3 million visitors, was presented on 25 April by the Ministers of Foreign Affairs and Cooperation, Alfonso Dastis and Energy, Tourism and Digital Agenda, Álvaro Nadal, along with Fernando Benzo Commissioner of the Pavilion of Spain and President of Spanish Cultural Action (AC / E).
Astana City Expo
The International Exhibitions Bureau (BIE) Appointed on 22 November 2012 at Astana (Kazakhstan) as a city in charge of organizing the International Exhibition to be held from June 10 to 10 September 2017. It will bring together 130 official participants (112 states and 18 international organizations) with the aim of enact a transformation of the current energy model for a more sustainable, efficient and diversified and attract foreign investment and technology tip and thus contribute to achieving the objectives of the Agenda for sustainable Development (UN ODS).
The area dedicated to the Expo has 250,000 square meters within a wider area of ​​1,490,000 square meters where buildings and supporting infrastructure are necessary. The Expo exhibition will feature 14 international pavilions, 2 pavilions companies, 2 thematic pavilions, pavilion area called best practices, 3 trade pavilions, pavilion of Kazakhstan, an auditorium, an art center and pavilion of energy.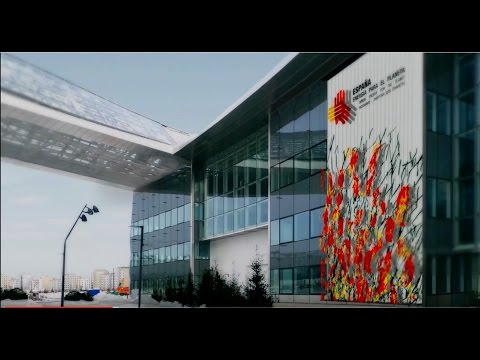 Did you like this article?
Subscribe to our RSS feed and you will not miss anything.
Other articles on Acciona, Acciona productions and design