First screen of 128 '' Hyundai polarized 3D
Hyundai IT muestra estos días en ISE 2011 la primera pantalla de vídeo 3D de 138" así como una amplia gama de pantallas de consumo general para aplicaciones de señalización digital, con especial atención a los dispositivos instalados en exterior y sometidos a altas temperaturas.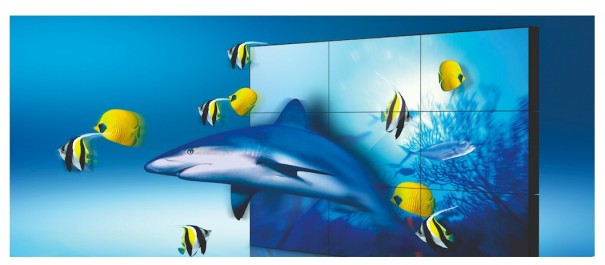 La principal novedad en el stand de Hyundai en ISE es la primera pantalla de vídeo en mosaico 3D en el mundo, con una diagonal de 138" (350.5 cm). Esta gran pantalla se compone de 9 (3×3) pantallas 3D estereoscópicas del nuevo modelo S468FL, que combina la fiabilidad de las pantallas domésticas con la innovadora tecnología 3D. Concretamente, su diseño con marcos casi invisibles (sólo 7.3 mm entre imágenes) y la función integrada de mosaico de vídeos hace que el S468FL sea la pantalla ideal para instalaciones multipantalla. El efecto 3D se consigue gracias a los filtros polarizados tanto en las pantallas como en las correspondientes gafas pasivas 3D. El formateador 3D, que se encuentra integrado en la pantalla, hace que sea posible mostrar formatos de vídeo 3D sin necesidad de utilizar ningún accesorio.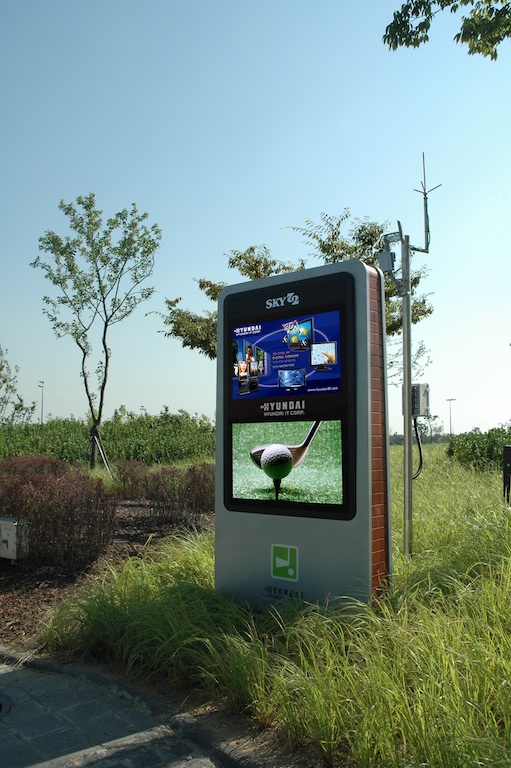 Pantallas exteriores Para las operaciones en el exterior Hyundai IT presenta por primera vez una pantalla exterior con una diagonal de 70" (177.8 cm). Gracias a su carcasa (que satisface los requisitos IP 55 a 65), al sistema de enfriamiento y calentamiento y a los paneles especiales LCD, esta pantalla exterior está lista para cualquier condición climática. Existen complementos opcionales para este producto innovador como paneles con retroiluminación LED, sensores de auto brillo, funciones de pantalla táctil así como protección de rayos UVA y anti-graffiti. Estas pantallas cuentan con función Eco, con sensor de movimiento y luminosidad, paneles transflectivos y retroalimentación LED. Hyundai, con su filosofía ECO, tiene como objetivo proveer de productos respetuosos con el medio ambiente, reduciendo el consumo de energía, especialmente cuando se trata de operaciones permanentes en instalaciones de señal digital. En esta línea, se presentarán en el ISE pantallas domésticas equipadas con sensores automáticos de movimiento y luminosidad. El sensor de movimiento detecta el movimiento humano en una determinada zona alrededor de la pantalla, y si no lo detecta, la pantalla permanece en modo de ahorro de energía. Por su parte, el sensor automático de luminosidad mide continuamente la luminosidad en el ambiente y ajusta en consecuencia la luminosidad que emite la pantalla. De hecho, los paneles transflectivos utilizan la luz ambiente para incrementar la luminosidad del panel. Con casi un 40% menos de consumo energético, comparado con las pantallas normales, las nuevas pantallas domésticas con retroalimentación LED son realmente respetuosas con el medioambiente.
Did you like this article?
Subscribe to our RSS feed and you will not miss anything.
Other articles Hyundai, Televida
By
nachojc
• 30 Dec, 1899
• Sección: Uncategorized