Allen & Heath with dLive promises a before and an after in digital mixing
New digital mixer of last generation of the manufacturer has an interface of gestural control and process internal to 96 bits / 96 KHz.

Allen & Heath It presents dLive, its next-generation digital mixing system, based on an ultra flexible architecture, a powerful processing FPGA core and very broad expansion, control options and network connectivity, as well as the intuitive UI Harmony , with gestural control. dLive is powerful and flexible solution for tours and facilities of high level today.
dLive boasts an architecture where the rack of mixture (MixRack) and control surface are separated. The dLive system processing is hosted on the MixRack, available in three formats (DM32, DM48 and DM64) and three control surfaces. All the MixRacks and surfaces are compatible (work just connect them together), with common configuration and compatibility of show files. The MixRacks contain the processing engine developed by the r & d team Allen & Heath, with the latest FPGA technology.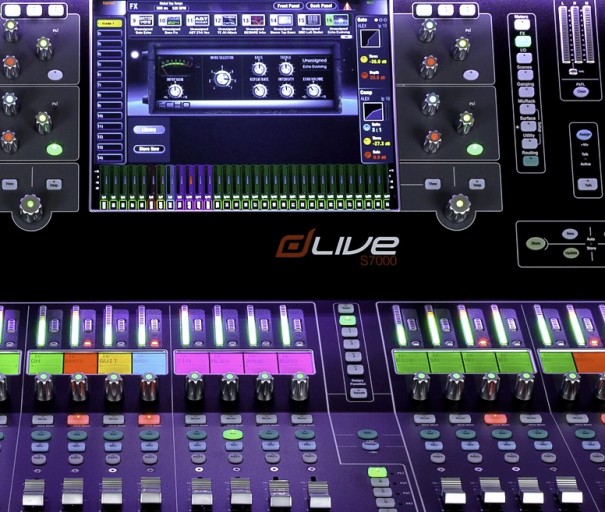 Unique architecture
The core of processing 96k / 96 bit XCVI Core has a capacity for 128 entries with full processing and 16 returns of stereo processing, with a total of 160 tickets for mixing and 64 fully configurable mixing bus architecture for the user. dLive incorporates the full package of DEEP processing, which includes EQs, compressors, compressors multiband and dynamic EQ, along with the 16 virtual racks of processing, including the superb emulations of effects of Allen & Heath.
The director of r & d from Allen & Heath, Rob Clark. He stressed that "we have focused on the requests of our customers and best sound engineers to develop new technologies from Allen & Heath mixing live. Engine XCVI has been designed from the base to run perfectly DEEP processing algorithms, from FPGA engine. This unique architecture allows users to determine the structure of processing that want to use in each input and each channel mixing, without wasting valuable racks of effects or add latency".
Remote inputs and outputs expansion can be performed from the MixRack or the surface itself through the Cat5 port double redundant DX. This allows the connection of up to three expansion units modular DX32. Available options of expansion and network connectivity between systems, through five ports of entry/exit to 128 channels, which include Dante, Waves SG, ACE and MADI; There is also an option of fibre-optic development.
There are three surfaces dLive; S3000 and S5000 S7000. Mapping and configuration of each one of them is completely customizable; each mix bus or each input can be assigned to any fader or Bank, and can also be labeled and customized with a color. The engineer also has 26 freely assignable SoftKeys. One of the key points of the new user interface Harmony, integrating screen and adjacent controls.
As regards touch screen (single or double) according to model of surface, it is a capacitive screen 12 '', with gestural control, and areas of configurable widgets for scenes, gauges and effects. It also incorporates an advanced lighting control for optimum visibility, both in full daylight and in low visibility conditions. Surfaces include also encoders with RGB color and a strip of LEDs in the upper zone.
Mix with MixPad and OneMix applications control options, as well as editing software there are on/offline software, TCP/IP control for integration of devices of third parties, as well as faders and Rotary remote controls by IP.
Finally, dLive features a new chassis to test tours, high rigidity and low weight. All units feature double slots for power supplies, and all sources can be exchanged between surfaces, MixRacks and expansion units. There are also double redundancy of audio between all the elements that make up the system.
Nicola Beretta, senior product manager, acknowledges that "really it's the definitive mix system, with all the tools of processing and the power that the most demanding engineers expect as well as network capabilities, for any application. This adds to an extremely intuitive user interface, and we believe that the faster the industry workflow makes it possible. dLive is an optimal product for permanent installations, theatre or concert halls both tours."
Did you like this article?
Subscribe to our RSS feed and you will not miss anything.
Other articles Allen & Heath, Lexon