Leyard and Planar reinforce its position in Europe with the acquisition of eyevis
The purchase of the German manufacturer eyevis is part of the strategy of technology investment in visualization and geographic expansion of Leyard and Planar in EMEA.

Manufacturers of Led and LCD displays Laird Y Planar they have announced the acquisition of eyevis, German provider of Visual systems of large format, reaffirming their commitment of geographic expansion and increase of the market share in Western Europe primarily, and in the rest of EMEA, in order to better respond to customers in this region with a combination of marketing, sales, installation support and value services operating.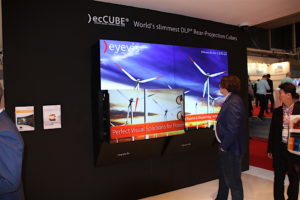 Solutions for visualization of eyevis (screens, controllers, graphics, software, etc) are a benchmark in Europe for professional applications in rooms control, transmission, virtual reality and simulation, to which are added those of the supplier's IPTV systems and networks of video of Teracue, company acquired by the German manufacturer in 2014.
For frame Bruins, Leyard EMEA CEO, "this acquisition demonstrates our ongoing commitment to a further geographical expansion and investment, specifically in Western Europe. It is a great opportunity to bring together the strengths and resources of Leyard, Planar and eyevis in the service the customer and distribution to build the best visual solutions in the world for our customers and open up new markets ".

For his part, Heiko Schaich, CTO of eyevis, said satisfaction in the company "with the integration into a larger corporate environment and opportunities improved for increased development and sales opportunities, which will provide a way for future growth and will bring stability to our partners and customers."
The acquisition of eyevis Leyard and Planar is subject at this time conditions and usual closing regulations and is expected to be completed in the second quarter of 2018.
Did you like this article?
Subscribe to our RSS feed and you will not miss anything.
Other articles Eyevis, Laird, Leyard Opto Electronic, Planar Systems