Leyard and Planar strengthen their position in Europe with the acquisition of eyevis
La compra del fabricante alemán eyevis se enmarca en la estrategia de inversión tecnológica en visualización y expansión geográfica de Leyard y Planar en EMEA

.

Los fabricantes de pantallas Led y LCD Leyard and planar han anunciado la adquisición de eyevis, proveedor alemán de sistemas visuales de gran formato, reafirmando su compromiso de expansión geográfica e incremento de la cuota de mercado en Europa Occidental principalmente, y en el resto de EMEA, con el fin de dar una mejor respuesta a los clientes de esta región con una operativa combinada de marketing, sales, soporte de instalación y servicios de valor.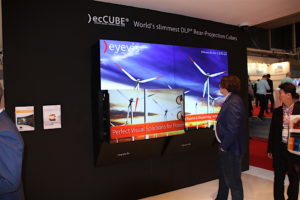 Las soluciones de visualización de eyevis (Screens, controladores de gráficos, software, Etc) son un referente en Europa para aplicaciones profesionales en salas de control, transmission, realidad virtual y simulación, a las que se añaden las del proveedor de sistemas de IPTV y redes de vídeo de Teracue, empresa que adquirió en 2014 el fabricante alemán.
Para Marco Bruines, CEO de Leyard EMEA, "esta adquisición demuestra nuestro compromiso continuo con una mayor expansión geográfica e inversión, específicamente en Europa Occidental. Es una gran oportunidad para reunir las fortalezas y los recursos de Leyard, Planar y eyevis en el servicio al cliente y la distribución para construir las mejores soluciones visuales del mundo para nuestros clientes y abrir nuevos mercados".

For its part, Heiko Schaich, director de tecnología de eyevis, ha señalado la satisfacción en la compañía "con la integración en un entorno corporativo más grande y las posibilidades mejoradas para un mayor desarrollo y oportunidades de venta, que proporcionará un camino para el crecimiento futuro y traerá estabilidad a nuestros socios y clientes".
La adquisición de eyevis por parte de Leyard y Planar está sujeta en este momento a las condiciones y normativas de cierre habituales y se espera que finalice en el segundo trimestre de 2018.
You liked this article?
Subscribe to our RSS feed And you won't miss anything.
Other articles on Eyevis, Leyard, Leyard Opto Electronic, Planar Systems