Sony display at ISE 2019 new centralized AV solutions to transform the work spaces
La multinacional ha desarrollado un sistema inteligente de principio a fin que permite mejorar la productividad en los edificios conectados gracias a las soluciones de gestión como Teos Manager.

En su participación en ISE 2019, del 5 al 8 de febrero en el RAI Ámsterdam (hall 1 – stand N20), Sony mostrará a los profesionales un entorno de trabajo "equipado con una tecnología eficaz y organizada que responde a las nuevas expectativas de los empleados y se adapta a las exigencias de los equipos que trabajan bajo presión. Todo un sueño para los edificios conectados".
Como señalan en la compañía, en la actualidad exiten numerosas empresas en todo el mundo centradas en reforzar la colaboración entre los empleados y en estimular la productividad, con el fin de crear entornos de trabajo conectados que contribuyan a mejorar los flujos de trabajo y que, a su vez, permitan reducir los costes.

El secreto de esta transformación: la conectividad
Según las previsiones de la consultora Frost & Sullivan, el análisis de datos será un componente esencial de la eficacia en los lugares de trabajo para el año 2025. Gracias a los dispositivos conectados, las empresas pueden generar hoy datos útiles que les permitirán en el mañana mejorar los procesos y reducir el consumo de energía.
La organización británica de alquileres sociales y servicios a la comunidad One Manchester es un ejemplo perfecto de ello. Como organización sin ánimo de lucro, su objetivo principal es proporcionar servicios de alta calidad sin perder de vista la rentabilidad.
Sony ha trabajado con One Manchester en la elaboración de dos soluciones, para lo que también ha contado con la ayuda de IDNS AV, proveedor especializado en el sector audiovisual, consistentes en la instalación de un equipo en las salas de reuniones y en la implantación de señalización digital en el edificio.

Además, estas soluciones visuales permiten recibir a los visitantes de manera personalizada y que los empleados estén informados en todo momento. El objetivo es garantizar una comunicación que fluya de forma sencilla y eficaz entre los empleados y los clientes.
TEOS Manage es una solución audiovisual centralizada que ofrece a los responsables del equipamiento audiovisual e informático un control absoluto sobre los dispositivos conectados. Ofrece a las empresas la posibilidad de supervisar y gestionar el uso de los dispositivos, reducir el gasto energético con una programación sencilla e identificar rápidamente los problemas para solucionarlos lo antes posible.
Además, los usuarios también pueden crear y difundir mensajes de alto alcance en el conjunto de espacios, lo que facilita la circulación de los empleados y les permite mantenerse al día de todas las novedades en tiempo real. TEOS Manage ofrece una serie de aplicaciones diseñadas para mejorar o sustituir los enfoques tradicionales de comunicación.
En este sentido, TEOS Reception es un servicio de grabación automática personalizada que envía una alerta a los empleados cuando se aproxima alguna de sus reuniones. Al mismo tiempo que ofrece una cálida bienvenida a los clientes, permite que el personal de recepción disfrute de una mayor tranquilidad en sus tareas diarias.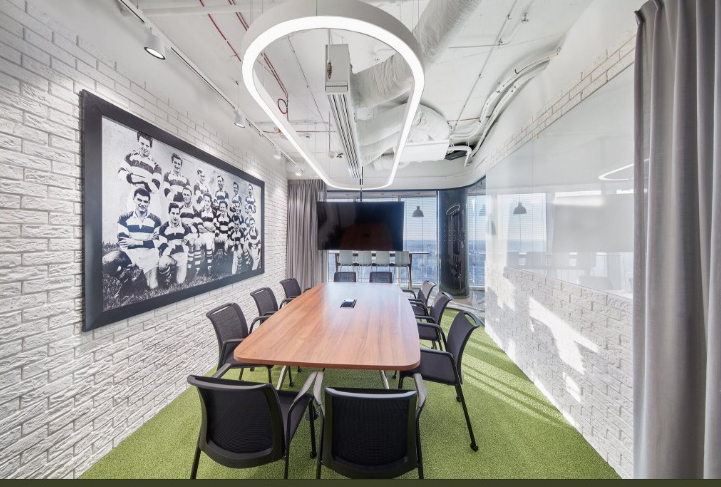 Según una encuesta de la agencia DEGW, para la que se recibieron 44.301 respuestas, los empleados dedican 33 minutos de su jornada laboral a organizar reuniones. TEOS Book se integra en el calendario corporativo para que los empleados reciban una notificación cuando las salas de reuniones se quedan libres, y puedan reservarlas mediante la pantalla táctil de una tableta.
Una vez en la sala, los trabajadores pueden utilizar TEOS Remote para configurar los parámetros de los dispositivos conectados, como los reguladores de luz (junto con la solución de iluminación Philips Hue), y para activar el proyector cuando tengan que hacer presentaciones.
Al mismo tiempo, TEOS Connect permite a los empleados y a las visitas conectar de forma rápida, sencilla y totalmente eficaz sus dispositivos a los monitores profesionales Sony Bravia con el fin de duplicar el contenido sin perder el tiempo de desplegar cables.
Did you like this article?
Subscribe to our RSS feed and you will not miss anything.
Other articles

DEGW

,

Frost & Sullivan

, IDNS AV, ISE2019, One Manchester, Philips, Philips Lighting, Sony, Sony Europe