Media Agency Group creates a pioneering platform for analyzing and evaluating campaigns DooH
Esta plataforma -denominada View- ofrece a sus clientes en Reino Unido una visibilidad completa de sus campañas en el 94% del mercado digital DooH del país.

The United Kingdom independent agency Media Agency Group ha desarrollado una avanzada plataforma de software, denominada View, para conocer y evaluar al detalle la actividad y repercusión de sus campañas Digital-out-of-Home (DooH).
Para ello, View esta integrado en 13.743 pantallas activas (lo que supone el 94% de la red de soportes digitales de Reino Unido) y permite a los clientes obtener información de los consumidores sobre su creatividad; evaluar sus reacciones y ser capaces de adaptarse antes de salir al mercado, lo que es vital para garantizar que el contenido se adapte perfectamente a su público objetivo para que se relacione de forma positiva.

Hasta ahora, los sistemas de medición de las campañas digitales en exterior han tenido luces y sombras en la industria, ya que algunas no se han cuantificado. "View ofrece un análisis independiente de la entrega digital (basado en datos únicos recopilados de sus grupos de audiencia principales) y, además, ha infundido la ansiada confianza en un mercado en constante expansión, ya que los presupuestos de los clientes están cambiando cada vez más a formatos digitales", señalan desde esta agencia.
Esta plataforma de software de seguimiento de retina proporciona más datos sobre los elementos exactos de un anuncio que llaman la atención a los clientes y mide con precisión lo que las audiencias han visto, lo que permite a los clientes adaptar su creatividad al máximo y con mayor garantía de éxito.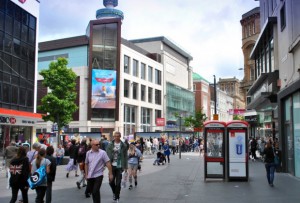 John Kehoe, CEO de Media Agency Group, señala que "la industria DooH está evolucionando rápidamente, pero la medición y la rendición de cuentas de las campañas ha sido un área difícil de cuantificar hasta la fecha. Tenemos el 94% de la red de pantallas digitales de Reino Unido conectadas a nuestra plataforma de software, lo que ofrece a nuestros clientes más fluidez a la hora de adaptar realmente campañas para satisfacer las necesidades del consumidor".
En cuanto a la plataforma desarrollada y su adopción en el mercado, la previsión es optimista: "vemos un gran valor en ser capaces de ofrecerles una transparencia total de las campañas y esperamos trabajar con ellos para crear un contenido atractivo que haya sido probado y comprobado antes de las fechas de lanzamiento", asegura Kehoe.
Según las estimaciones aportadas por esta compañía, el mercado DooH no muestra signos de desaceleración y los últimos estudios apuntan a que crecerá más del 40% para el año 2020, tras superar recientemente y por primera vez al Out of Home (OOH) tradicional.
Did you like this article?
Subscribe to our RSS feed and you will not miss anything.
Other articles Media Agency Group