FaceCake shows in the CES 2013 how will be the future of the ' shopping'
FaceCake Marketing Technologies, a pioneer and innovative custom interactive marketing and solutions 'Try-On' virtual technology, has led to the International Consumer Electronics Show (CES) 2013 its latest augmented reality products, offering buyers exactly what they want: the possibility of testing products in a quick and easy way wherever they are.
FaceCake Marketing Technologies is exhibiting its catalogue of solutions ' Try-On' retail in the CES of the Vegas. FaceCake offers to buyers who have been looking for: a virtual dressing room with a way to try on clothes quickly and easily, and at the same time receive personalised advice on styles and accessories, whether it's in the shop, at home or on the road.
From retail to e-commerce to mobile phones, consumers can now test how are products in their own image and see what remains best, without the hassles of traditional testers where you have to take off her clothes. Retail of FaceCake, including the interactive virtual Try-On and the recommendations of products instantly, augmented reality-based shopping so is now a completely new reality.
Swivel by FaceCake, the first dressing room virtual 3D, allows to them buyers try is the clothes and the accessories in its own image, in time real and from any angle. Recently deployed in Bloomingdale's, Swivel also offers custom interactive tips and the opportunity to share on social networks the favourite looks. The device also includes the new Swivel close-up, which offers consumers the opportunity to try also the makeup and jewelry within an environment of two meters high, which literally reflects experience in the store.
Applications in digital signage
To reach customers where and when they want to buy, FaceCake has other innovative products such as the Digital Signage Swivel, allowing buyers to test the products before entering the store, applications of tablets that incorporate Swivel close-up in real-time and mobile solutions that engage buyers through your phone. Buyers can save their favorites from any platform and build a virtual product wardrobe, as well as items in your wish list. When customers interact with Swivel, any changes that you make available to Try-On Mobile, with its dreamy dressing for it is now literally in your pocket.
Linda Smith, founder and CEO of FaceCake, said that "with the addition of Close-Up Swivel Swivel and Digital Signage are providing a fully integrated experience and highly personalized shopping. FaceCake has not only made the tester is much larger, but now buyers can also take the tester with them wherever they go. "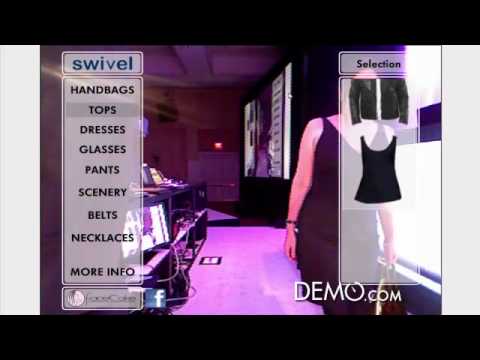 Did you like this article?
Subscribe to our RSS feed and you will not miss anything.
Other articles on FaceCake