Virtual reality allows you to immerse yourself in the surreal world of Dali
St. Petersburg Salvador Dali Museum offers an immersive experience that enables visitors, thanks to the Oculus Rift, delve into the dream world of the artist. An experience that is being held in so-called display "Disney and Dalí: architects of the imagination".
Virtual reality and art become merged in the Museum Salvador Dalí in St Petersburg in Florida, whose Centre houses the collection of this Spanish genius of Figueres (Girona), with more than 2,000 works comprising about 100 paintings to oil, 100 watercolors and drawings, and 1,300 prints, photographs, sculptures and art objects.
The last exhibition, "Disney and Dalí: Architects of the Imagination" (Disney and Dalí: architects of imagination), which he was inaugurated on January 23 and it will be open until June 12, offers a sample that gets highlighted the relationship between the artist and the American animator Walt Disney.
After the display of paintings, sketches of stories, audio, photos and other objects related to the life of two of the most renowned artists of the 20th century, visitors can dive into a sensorial experience using helmets Oculus Rift.
This virtual reality experience developed under the name "Dreams of Dali" and allows visitors to delve into one of the more surreal works of the author, "Archaeological reminiscence of the Millet Angelus". Made in 1935, in this table proposes the relationship between the operator and the world of the dreams, ones dreams that are presented in this initiative in an environment immersive 3D.
"Dalí was always exploring new ways of expressing their art. We now offer our visitors the opportunity to experience and appreciate the art from a new perspective. Virtual reality allows us to show an almost tangible vision", Kathy Greif, director of Marketing at the Dali Museum.
"The dreams of Dali" is a project that has been done the creative agency based in San Francisco, Goodby Silverstein & Partners)GS & P), in association with The Dali.
Visitors are invited to use the Oculus Rift virtual reality helmets to plunge into the box and navigate to the oneiric world that offers Dali in this box.
The experience allows the viewer to explore the elements of painting, look beyond the areas represented on the canvas and even listen to what might have been the thoughts of the artist in his own voice.
"We use today's technology to show how would this imaginary world of Dali 80 years ago. We imagined a real place and this painting was his way of putting it, "says Sam Luchini, creative director of GS & P.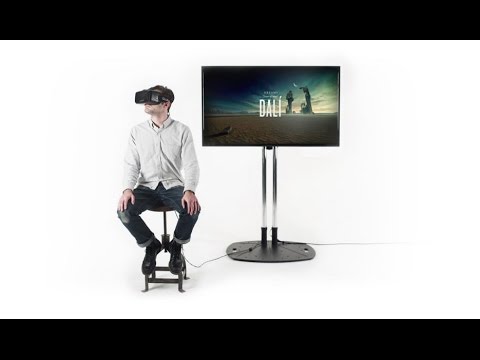 Did you like this article?
Subscribe to our RSS feed and you will not miss anything.
Other articles on Goodby