Dynamic 2 X in the emblematic building 'The Squaire' in Frankfurt
Arthur Holm monitors are installed at an oval table which also has audio conference system. All screens are controlled by AH Net system.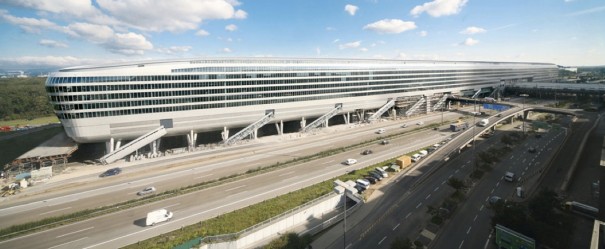 The "Squaire" is an office building built in Frankfurt airport. Unique in the world, its structure "floats" over 86 pillars that are on the long distance train station. Interconnectivity, mobility, time and inspiration have been the determining factors when designing this meeting point international, located in the heart of Europe.
"Squaire" intends to lead a new trend in the future meetings spaces, a new form of understanding collective work that connects the needs of businesses, employees and customers. The building has of meeting and conference rooms that meet the most demanding standards of international work, an exclusive "business club" cuisine of high level and shopping areas and entertainment. With 660 meters of length, width 65 and 45 high, this building has no equal anywhere in the world and is considered the most innovative of Germany building.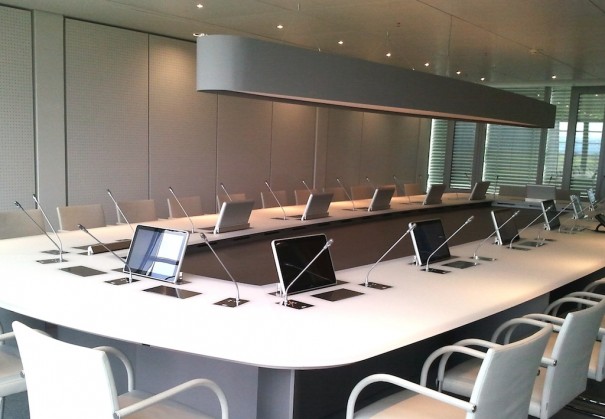 Dynamic 2 X
Retractable screens Dynamic 2 X's Arthur Holm they have been installed in the meeting room of a well known international firm of legal and tax services with more than 20 offices in Germany. The monitors have been installed in an oval table which also has audio conference system. Each screen is used by two people, and all of them are controlled by AH Net.
AH Net is a system of control easy to use; It allows the activation remote ascent and descent of monitors and the main features of the same. Dynamic 2 X monitors were chosen for its elegance and quality. Its 20 degree angle provides a comfortable working position at the same time that provides visibility to the rest of the meeting. Your lift system is fast, extremely reliable and silent and the use of routers AH and AH Net control system simplifies and saves the installation. The use of router facilitates remote checking of equipment and automatically generates and sends e-mail to report any anomaly.
Did you like this article?
Subscribe to our RSS feed and you will not miss anything.
Other articles Arthur Holm