Dynamic 2 X in the emblematic building 'The Squaire' in Frankfurt
Los monitores de Arthur Holm se hallan instalados en una mesa ovalada que cuenta también con sistema de audio conferencia. Todas las pantallas están controladas mediante el sistema AH Net.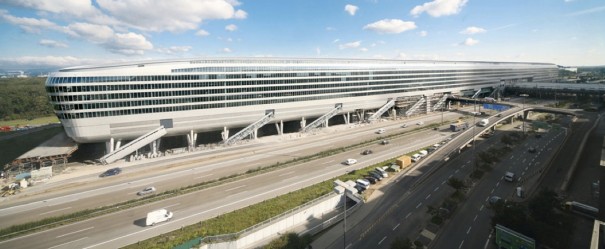 El "Squaire" es un edificio de oficinas construido en el aeropuerto de Frankfurt. Único en el mundo, su estructura "flota" sobre 86 pilares que se encuentran sobre la estación de tren de larga distancia. Interconectividad, movilidad, tiempo e inspiración han sido los factores determinantes a la hora de proyectar este punto de encuentro internacional, situado en el corazón de Europa.
El "Squaire" pretende liderar una nueva tendencia en espacios de reuniones del futuro, una nueva forma de entender los lugares de trabajo colectivo que une las necesidades de empresas, empleados y clientes. El edificio dispone de salas de reuniones y de conferencias que responden a los más exigentes estándares de trabajo internacional, un exclusivo "business club", gastronomía de alto nivel y áreas comerciales y de entretenimiento. Con 660 metros de largo, 65 de ancho y 45 de alto, esta construcción no tiene igual en ningún lugar del mundo y se le considera el edifico más innovador de Alemania.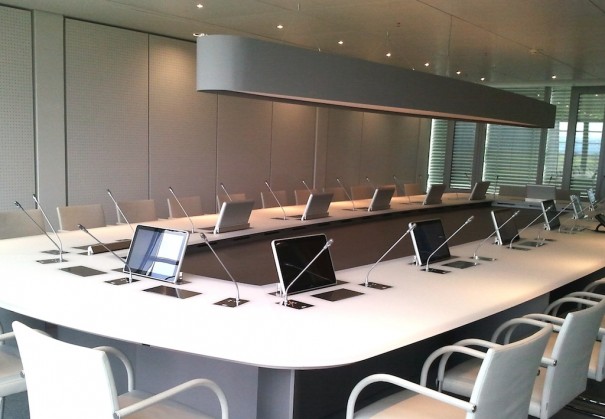 Dynamic 2 X
Las pantallas escamoteables Dynamic 2 X de Arthur Holm han sido instaladas en la sala de reuniones de una conocida firma internacional de servicios legales y fiscales que cuenta con más de 20 oficinas en Alemania. Los monitores se han instalado en una mesa ovalada que cuenta también con sistema de audio conferencia. Cada pantalla es utilizada por dos personas, y todas ellas están controladas mediante AH Net.
AH Net es un sistema de control fácil de utilizar; permite la activación remota de la subida y bajada de los monitores y de las principales funcionalidades de los mismos. Los monitores Dynamic 2 X fueron elegidos por su elegancia y su calidad. Su inclinación de 20 grados proporciona una cómoda posición de trabajo al mismo tiempo que facilita la visibilidad hacia el resto de participantes de la reunión. Su sistema de elevación es rápido, extremadamente fiable y silencioso y la utilización de los routers AH y del sistema de control AH Net simplifica y economiza la instalación. El uso del router facilita el chequeo remoto de los equipos y automáticamente genera y envía e-mails para reportar cualquier anomalía.
Did you like this article?
Subscribe to our RSS feed and you will not miss anything.
Other articles Arthur Holm