LG OLED Transparent: a unique visual universe to transform any environment
The innovation that the manufacturer makes to improve its display systems currently has on the Transparent OLED screen one of its maximum exponents and allies for any commercial and business environment; a unique solution in the market that opens a new era in the application of digital signage.

With an innovative transparent design that allows you to see beyond the screen, high image quality and format flexibility, the Transparent OLED system (T-OLED) developed by LG It is a step further in visual experience to transform any space into a stunning, fully functional digital environment, tailored to the needs of each application and industry.
This technological solution offers 38% transparency, enough to see details of objects, images and text behind the screen, creating a visual immersion effect between the looking customer and what is displayed in a differential and high impact way.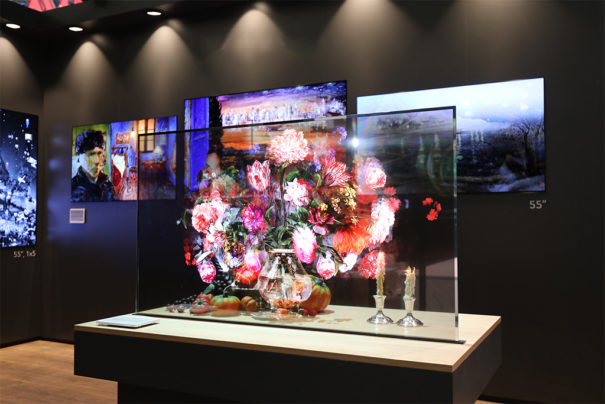 Reinventing digital signage
Thanks to LG's OLED technology, this transparent display, whose first model is the 55" EW5F-A system, shows vivid and real colors thanks to its independent pixels, the result of which are high quality images, with Full HD resolution and a brightness of 400 cd/m2 , which combine perfectly with the environment. The images projected on the transparent screen overlap the objects in the background, thus achieving an augmented reality effect.
Unlike other transparent screens, T-OLED uses black instead of white, such as the transparent color, the result of which is that the edge of the screen is almost imperceptible when there is a black background and lighter colors, such as gold or silver, call a lot of more attention to highlight, for example, jewelry items, watches, etc.

In addition, it can be installed on moving surfaces and in videowall format, significantly increasing its impact and spectacularity in any commercial and business environment, with multiple possibilities when it comes to displaying the content.
In this sense, the T-OLED display is designed to facilitate its installation and integrate into any environment thanks to it weighs less than 14 kilos and offers two possibilities: Open Frame and Standalone. The first is designed with open frame to resemble a 55" glass panel, either installed alone or on a 2xN videowall, and the electronics can be hidden up to 1.6 meters away, thus achieving the greatest effect of transparency.
The Standalone model integrates electronics into its support. Both incorporate the Smart webOS3.2+ platform for dynamic and interactive communication.

Unique and differential experience in any environment
A common and priority denominator of digital signage is to create a unique, attractive and high-impact experience for customers, mainly in the retail environment, a sector that is constantly evolving to adapt to new consumers and enhance sales.
And it is in this environment where the development of LG with the OLED Transparent screen forms a perfect technological tam in terms of functionality, customization and creative and commercial possibilities. An example of this is its application in areas of an establishment, such as counters, storefronts, central areas, which until now were wasted and with this transparent panel are transformed into an attractiveness, showing images or objects that can visualized on both sides.

The transparency of T-OLED allows the creation of visual effects that do not leave indifferent a buyer who travels a store, exposing physical products, exclusive brands, commercial promotions,... behind the panel, while images and videos are played back on the screen with a large vivid ness (see attached video).
A new form of visual communication that opens up an infinite range of creative possibilities that until now traditional digital signage did not offer either the buyer or the owner of a commercial environment to improve both the shopping experience and the Sales.
Especially effective has been the collaboration between LG and ZeroLight en el diseño de una sala de exposición de automóviles, en la que la experiencia del cliente y del tradicional configurador de coches se transforma radicalmente utilizando la pantalla OLED Transparente (más detalles del proyecto en digital AV).
Did you like this article?
Subscribe to our RSS feed and you will not miss anything.
Other articles LG, LG Spain