Adif transforms its training center in Valencia in one of virtual reality with Aumentaty
The development by this specialist is a simulator to understand and visualize, using virtual reality technology, assembly and repair processes catenary, so that knowledge workers with the parts to be assembled is provided.
The technology training center Adif Valencia has built two platforms based on virtual reality technology Aumentaty. One of them is specifically developed and dedicated to the training of its personnel in maintaining electrical substations by simulating instructions, compliance, risk prevention and repairs.
La otra plataforma se basa en un simulador en el que los operarios, mediante realidad virtual, pueden conocer y visualizar en detalle los procesos de montaje y reparación de catenarias. Con esta aplicación, pueden ir ensamblando diferentes piezas que conforman otras mayores y que dan lugar a las catenarias, familiarizándose con las mismas y que en condiciones normales necesitarían grupos de cuatro o cinco personas para manipularlas.
En el caso del simulador virtual de las subestaciones se consigue que el alumno se exponga al entorno virtual como si fuese el real, pero evitando totalmente algunos de los riesgos que esta labor conlleva, como la electrocución. Durante las sesiones de simulación y realidad virtual dentro del aula se potencia el aprendizaje activo individualizado, gracias a la inmersión del alumno en escenarios virtuales, que reproducen fielmente los entornos reales de trabajo y situaciones e incidencias simuladas.
El alumno, a través de los cascos de realidad virtual, puede introducirse en diversos escenarios en los que recibe instrucciones de las operaciones que debe de realizar para el ejercicio de aprendizaje. La evaluación es continua y el alumno va superando los retos del ejercicio, mientras que el resto de la clase presencia el ejercicio en pantallas auxiliares e interactúa con sus aportaciones en la resolución del mismo.
Francisco Javier Sánchez for Bolumar, head of Adif training center in Valencia, "the result of this first experience has been very satisfactory, proving that this methodological combination to optimize learning, improving and accelerating the transfer of knowledge to the participants.
The application of virtual reality technology has been realized for the first time in the formation of group electrified the Public Offer of Employment 2016, which have combined three methods: lectures, sessions simulation and virtual reality, so as practical classes, as noted Sánchez Bolumar.
As a point from Aumentaty this development with virtual reality technology brings to Adif an ideal solution for better training and therefore more prepared professionals to solve more effectively and efficiently repairs. Javier Tatay, project manager Adif Catenary in Aumentaty, "the application of technology to industry is what gives it value. It is the sense of the use of technology which makes this training center pointer at national and international level. "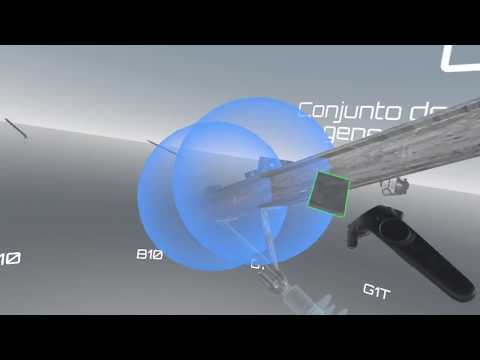 Did you like this article?
Subscribe to our RSS feed and you will not miss anything.
Other articles on Adif, Aumentaty