ProjectionDesign, Sgo, at NAB next
La compañía noruega proveerá a la española Sgo de proyectores Cineo32 y Cineo82 para demostrar en Las Vegas procesos tan críticos en cuanto a color, resolución y brillo en la imagen como son los relacionados con la intermediación digital.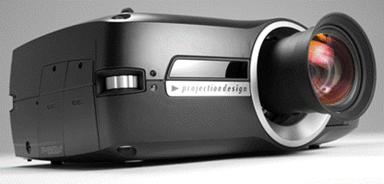 Tanto para demostraciones 2D como 3D Sgo utilizará en su stand en NAB 2010 los proyectores DLP de Projectiondesign Cineo32 y Cineo82 DLP. La empresa española, que presentará en Las Vegas la última versión 5 de Mistika ha escogido estos proyectores por su fiabilidad en procesos tan críticos con el color, la resolución y el brillo como son los derivados de la intermediación digital. El Cineo82 es un proyectos de 3 chips DLP que está considerado como el buque insignia en Projectiondesign. Durante las demos que Sgo lleve a cabo se utilizará con una lente de alta precisión en una pantalla de tres metros de ancho. Con un brillo máximo de 10.000 lúmenes ANSI y una resolución de 1920×1080 nativa en alta definición, este proyector permite contar con, incluso en grandes espacios y pantallas, con una imagen brillante, clara y precisa de color. La tecnología DLP de 3 chips con procesamiento óptico ACOP garantiza la mejor imagen posible respondiendo al espacio de color REC709 y DCI. Además de los Cineo82, Sgo utilizará el proyector Cineo32 que con un solo chip DLP se montará en configuración estéreo en una pantalla de dos metros de ancho. Este proyector ofrece un alto contraste y color uniforme. Cuenta con resolución completa de 10-bit, garantizando máximo exactitud en cuanto a espacio de color 709 REC e incorporando la última versión de BrilliantColor, tecnología desarrollada por Texas Instruments que mejora el rendimiento. Esto permite al usuario calibrar el proyector para producir una imagen exacta, ya sea a través LUT 1D y 3D externos o a través de su suite de gestión única de color RealColor. El proyector está disponible con una amplia gama de ópticas de precisión de proyección, y su diseño compacto y portátil posibilitan su uso, por ejemplo, para seguir con exactitud los dailies de un rodaje. REDUSERS El Projectiondesign Cineo82 se empleará también en Las Vegas durante el encuentro REDUSERS que tendrá lugar a lo largo de todo el día 14 en el Hotel Tropicana. Durante más de doce hora se proyectarán imágenes de proyectos rodados con la RED, y se integrarán los proyectores con la solución de acabado digital Scratch de Assimilate junto a una tarjeta decodificadores RED Rocket 4K y una workstation de intermediación digital. Para algunas de estas proyecciones se emplearán gafas polarizadas 3D.
Did you like this article?
Subscribe to our RSS feed and you will not miss anything.
Other articles Mistika, NAB, Projectiondesign, Sgo, Texas Instruments
By
DRAFTING
• 30 Dec, 1899
• Sección: Uncategorized