Christie and Charmex provide immersive projection technology for CIM Vila-sana
Fabricante y mayorista han colaborado con Inside Consultores y Creative Rent en la creación AV del Centro de Inmersión de Vila-sana (CIM), que ha revitalizado esta localidad de la provincia de Lérida.
El proyecto de promoción del municipio de Vila-sana (Lérida), como parte del programa del gobierno catalán Viure al Poble Més y fondos europeos Feder para revitalizar esta zona en la que se ha regenerado su laguna para que las aves regresen a este humedal, cuenta con el CIM (Centre d'Immersió de Vila-sana).
Diseñada por el especialista en comunicación, branding y arquitectura corporativa Inside Consultores, en esta sala los visitantes pueden ver la película The Estany D'ivars i Vila-sana, de catorce minutos de duración sobre esta rica reserva natural de Cataluña, realizada también por esta empresa y rodada en 4K, timelapse y grabaciones áereas con drones.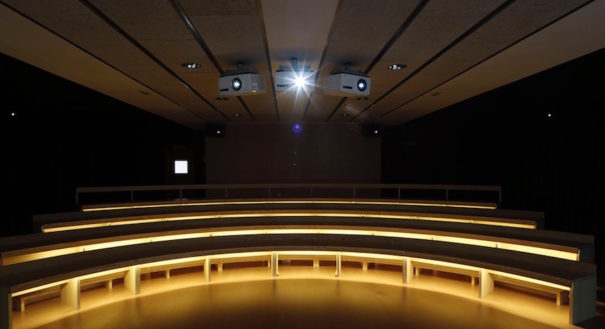 Este documental, en el que se recogen todos los momentos del día en la laguna y de su hábitat ornitológico, se proyecta en formato super panorámico adaptado a este espacio, con diseño escalonado en forma de anfiteatro, y a su pantalla curva de 10×2 metros, que forma una semicircunferencia de 90º, "que sigue principios andropométricos", como señalan desde esta compañía.
El auditorio cuenta por ello con una pequeña tarima redonda delante de esta pantalla curva y, a continuación las gradas, cuyo diseño de curvatura inverso a la pantalla simula el efecto de las ondas creadas por una piedra al caer sobre el agua.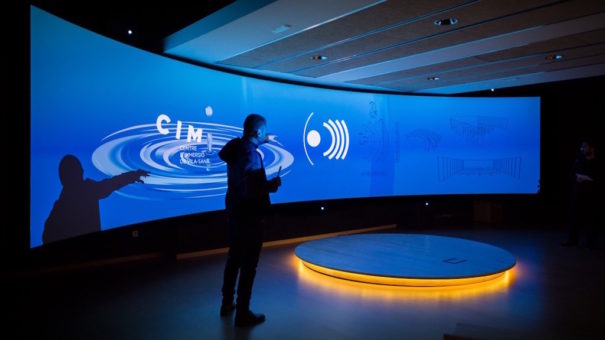 A ello se suma un sistema de audio envolvente Surround 7.1, que ofrece sonido 360º en la sala para que el visitante tenga la sensación de estar dentro de la película, con fuentes y efectos sonoros realistas.
Three projectors of the firm Christie en blending y un servidor permiten reproducir en esta gran pantalla curva una sola imagen, sin roturas, así como otro tipo de formatos estándar (4:3 y 16:9).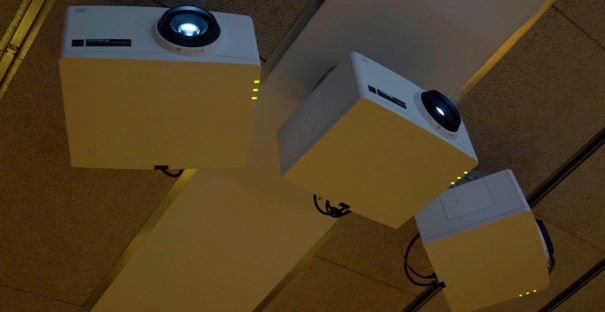 En su desarrollo, los especialistas de Creative Rent They contacted with Charmex, partner de este fabricante y proveedor audiovisual B2B, para que les facilitaran tres proyectores del modelo DHD600-G, un equipo con tecnología 1DLP que ofrece 6.200 lúmenes centro, con una óptima relación de contraste a 4.800:1 y color homogéneo, con una resolución de 1.920×1.080p HD.
Como explica Xavier Romeu, director de Inside Consultores los arquitectos dieron con unos equipos al nivel de su creación, "ya que la calidad que ofrecen estos proyectores es muy elevada y se define muy bien la imagen. Se necesitaban sistemas a la altura de una proyección 4K y lo hemos conseguido. No hay otra sala igual en Cataluña que disponga de este equipamiento".
Did you like this article?
Subscribe to our RSS feed and you will not miss anything.
Other articles

Centro Inmersión Vila-sana CIM

, Charmex, Christie, Creative Rent,

Inside Consultores